Landscape Bark and Mulch Delivery and Installation
Learn more about our landscape bark and mulch delivery and installation services.
Quality Landscape Bark & Mulch from Superior
Bark and mulch can totally transform your space from a barren dirt patch to a colorful, covered environment where plants and soil thrive and weed production significantly declines.
Contact Us
Questions? Text or call 616-283-6434
What Is Landscape Bark & Mulch?
Our landscape bark and mulch services provide high-quality groundcover to an area. These materials beautify lawns while providing protection to plants and enriching soil. We deliver and install both hardwood bark and color-enhanced mulch, creating a stunning landscape that will help your property pop.
How Does Landscape Bark & Mulch Work?
We complete our landscape bark and mulch services in two simple steps: delivery and installation.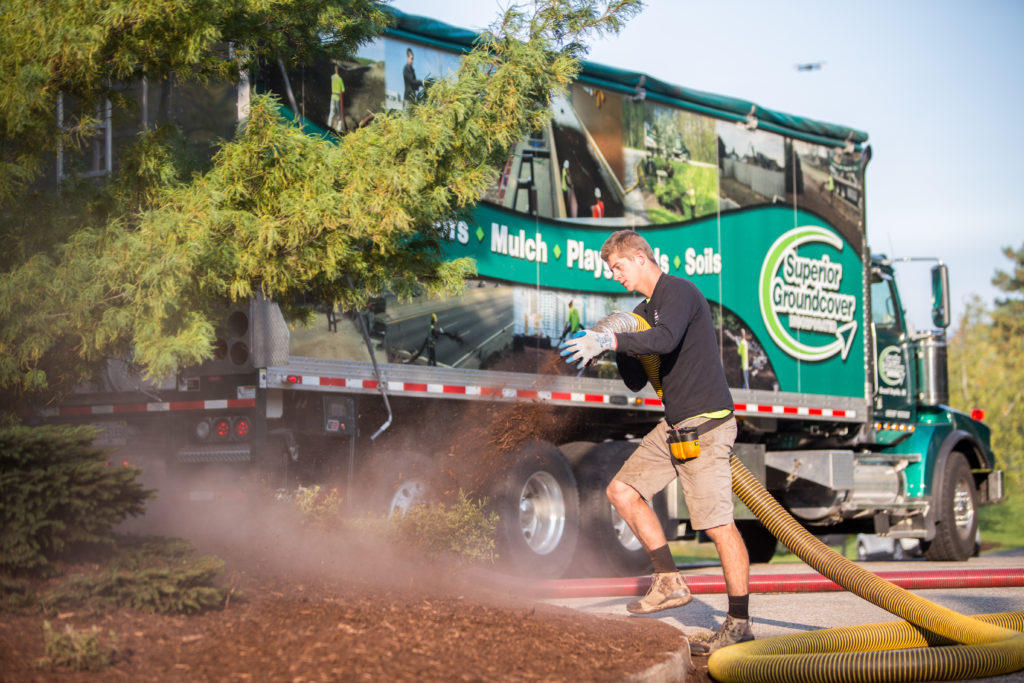 1. Deliver Your Bark & Mulch
On the date of your landscape installation, our team will arrive with a blower truck full of your chosen substrate, bark or mulch. Our specialized trucks feature long hoses to ensure we can stay parked on the street and not infringe on your current yard.
2. Install Your Bark & Mulch with Our Blower Trucks
Our blower trucks are used to efficiently install the bark and mulch. Rather than a team manually carrying and spreading the material, our pneumatic application allows us to apply a precise, full-coverage layer of bark or mulch to your yard simply and quickly.
Who Needs Bark & Mulch Installation?
All industries and clients that are seeking unique, uniform yards can benefit from bark and mulch. School districts use mulch as a great substrate for playgrounds; public parks can save money by using bark and mulch to prevent erosion. Both residential homeowners and commercial businesses use bark and mulch to enhance their landscaping.
Types of Landscape Bark and Mulch Delivery and Installation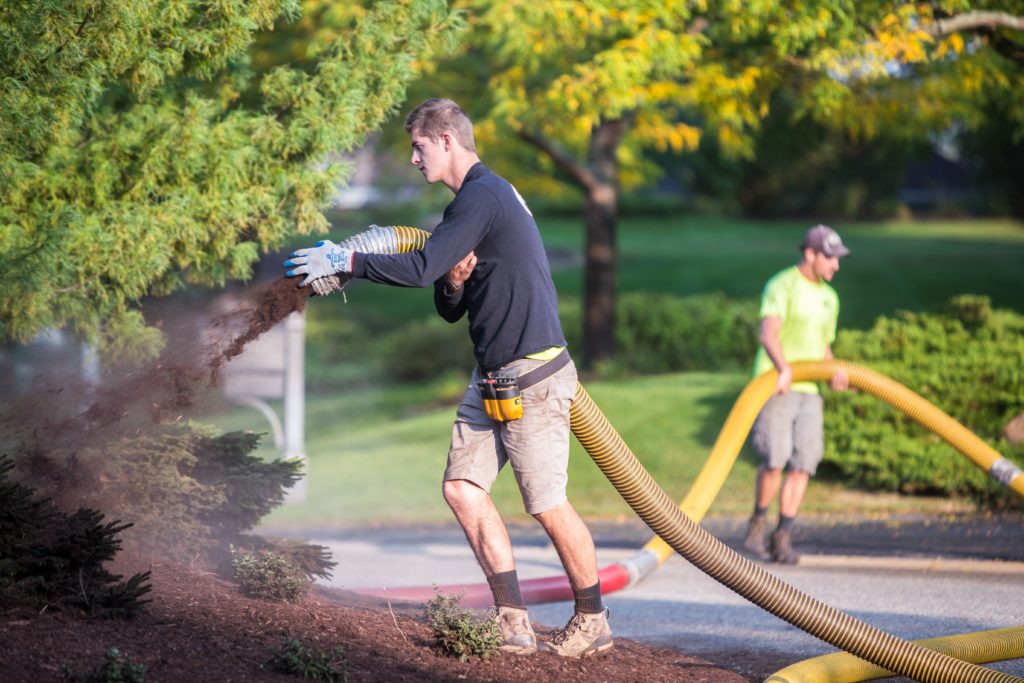 We offer bark and mulch for commercial properties. Professional bark & mulch installation can transform the exterior appeal of your space, catching the eye of potential customers. An even layer of bark or mulch can also reduce reparative costs down the road, as it protects the ground from erosion.
Superior Groundcover provides bark and mulch services for residential properties. While a traditional green lawn is great, bark and mulch can add more color and variation to a yard, helping to differentiate it from the rest of the street. Mulch also retains moisture very well, helping to keep surrounding plants fed, keeping them healthier and brighter.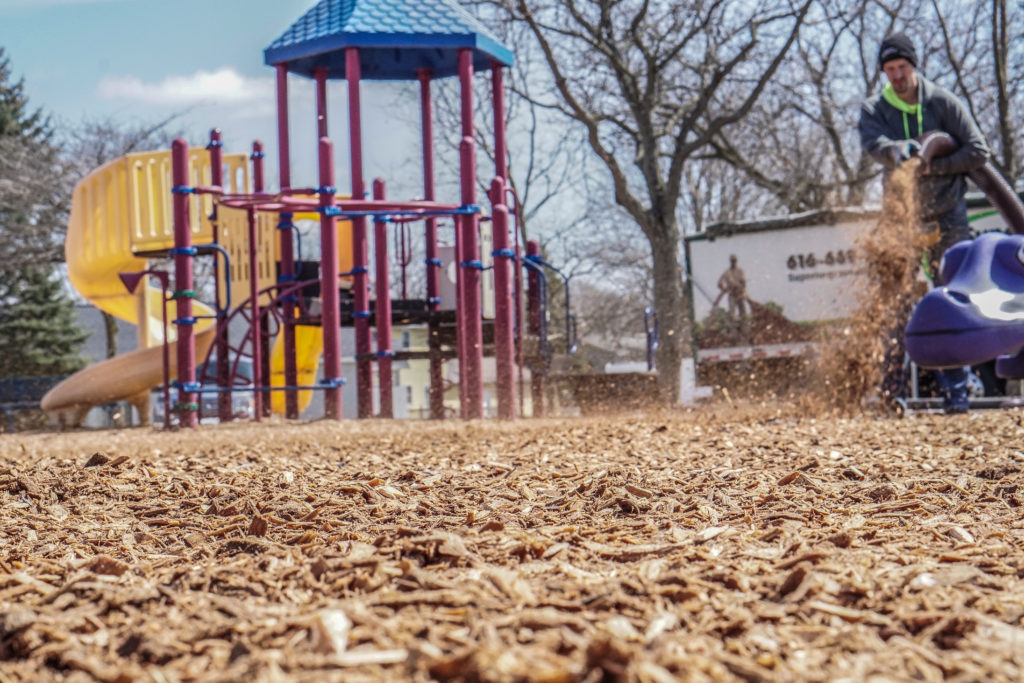 Some playground planners believe pebbles or sand are good forms of ground covering, but mulch and bark are the superior substrates for playgrounds. When it comes to young children, bark and mulch are easier to walk on. They have a greater shock absorbency and are less likely to cause scrapes, mitigating injury. In contrast to small rocks, bark and mulch are not as easily ingested by curious toddlers who are close to the ground.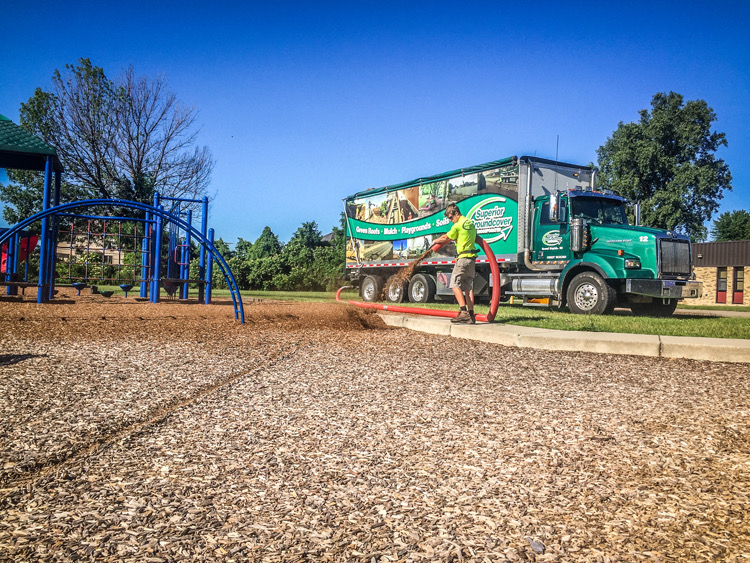 Benefits of Bark & Mulch Delivery & Installation
Enjoy even, full coverage of bark and mulch in no time with our specialized blower trucks. Improve the health of your soil by using mulch to increase the amount of organic material it contains. Prevent weeds and protect plants with bark and mulch.
When considering what type of ground cover to add to a lawn, some people may consider rocks or pebbles. Rock is usually more expensive than bark or mulch, both in material and installation, as jagged rock must be manually spread. It also has a higher permeability than mulch, letting water run through rather than retaining it. While rocks can last longer than bark and mulch, it does require an additional layer of ground protection to be laid to prevent weeds.
How Much Does It Cost to Have Mulch Installed?
Cost varies depending on multiple factors, including the type of mulch you choose and the size of your yard. At Superior Groundcover, we supply a variety of mulch options—contact us for more information.
DIY vs. Professional Blown Bark & Mulch Installation
Save your weekends for hanging out with the family or cruising on the water, not time-consuming yard work.
While DIY mulching is a possibility, a professional blown mulch installation will save you tons of time and mess. Our blower trucks allow for quick and even distribution—no giant mulch piles, wheelbarrows, or shoveling involved.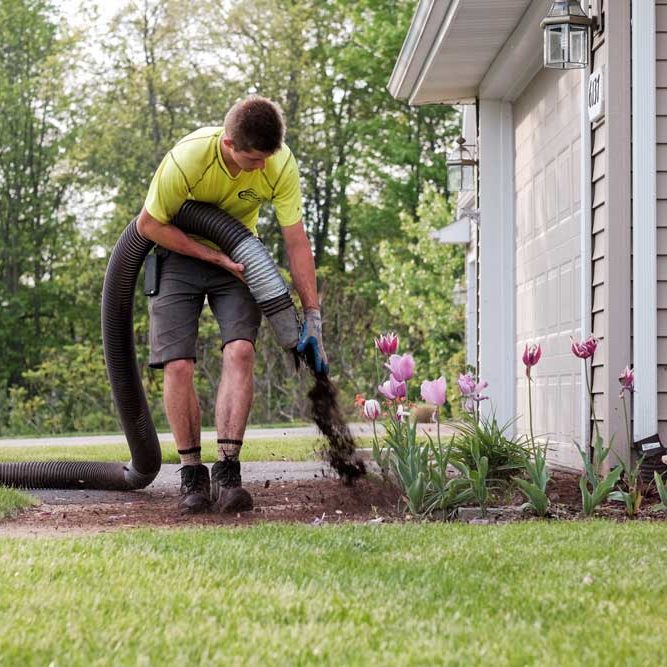 BARK & MULCH
Local Bark & Mulch Landscaping by Superior Groundcover
When it comes to reliable, long-lasting groundcover services, we have been servicing lawns for over 20 years—it is our passion. We know how integral a well-maintained, balanced yard is in enhancing the exterior of your home or business, and are happy to answer all your questions as they arise.
Get a Free Quote!
Send us a message today to receive a free estimate on your commercial or residential bark & mulch project.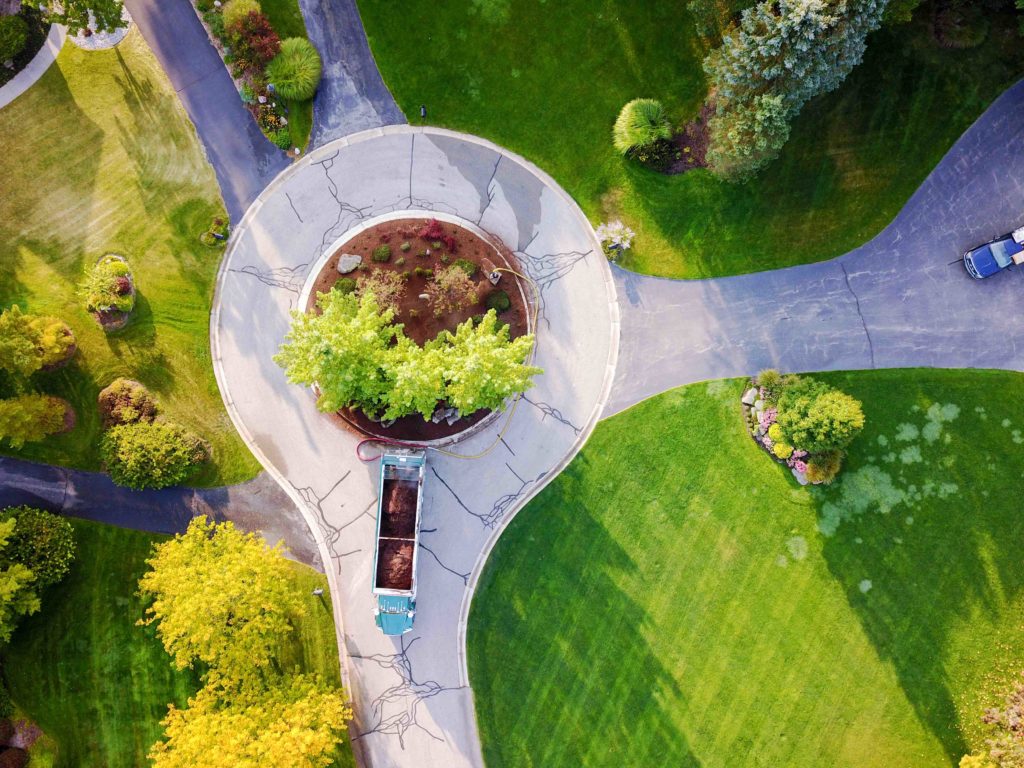 BARK & MULCH
Frequently Asked Questions (FAQ)
Hardwood bark is actually shredded and does not float away as the fibers lock it in place. This material breaks down more easily and puts nutrients back into the ground. Hardwood bark will hold its color for 2–3 months in direct sunlight and then will fade in color.
Mulch (pallet wood) lasts longer than hardwood bark and also takes longer to break down, which in turn does not put nutrients back into the ground as quickly. The benefit to colored mulch is that it holds its color for the better part of a year.
If you're wondering if bark or mulch is better for your landscaping needs, reach out to us.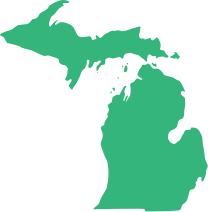 Installation & Delivery Services
Michigan Bark & Mulch Installation & Delivery
We offer premium-quality bark and mulch installation in residential and commercial lawns throughout the state of Michigan.

Questions? Text us at (616) 283-6434