Material Placement Made Easy
Commercial Grass Seeding
Superior Groundcover has two popular and efficient grass-seeding methods available to property management companies. In cases where the environment is conducive to the growth of new grass, hydroseeding is a great option. This involves spraying a liquified mixture of grass seed, fertilizer, soil amendments, water, and other materials onto the property.
In areas where the growth of new grass may be more challenging due to rainfall, sloped ground, or poor soil quality, Terraseeding can get the job done. This process involves premixing grass seed with material such as topsoil, compost, or mulch, then applying that material to the designated area using our blower trucks. The material used in Terraseeding protects the grass seed from animals, wind, and rain. It also provides nutrients and moisture that the grass needs to grow.
Both methods will have new grass sprouting on your property within a matter of weeks.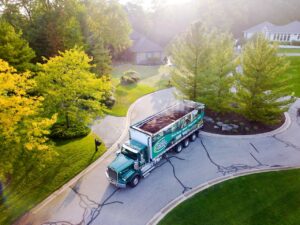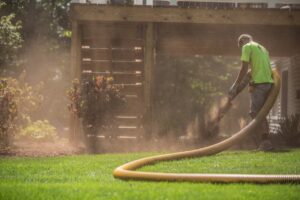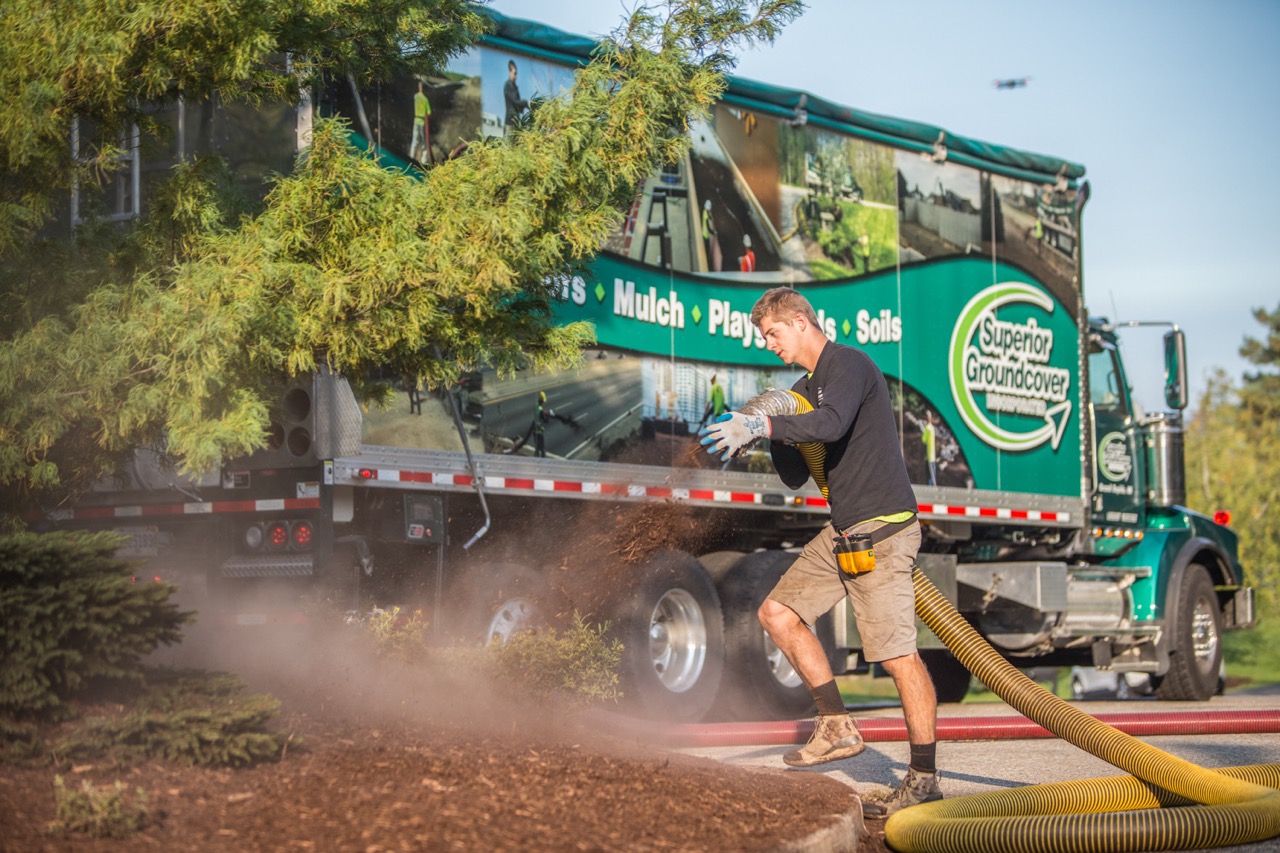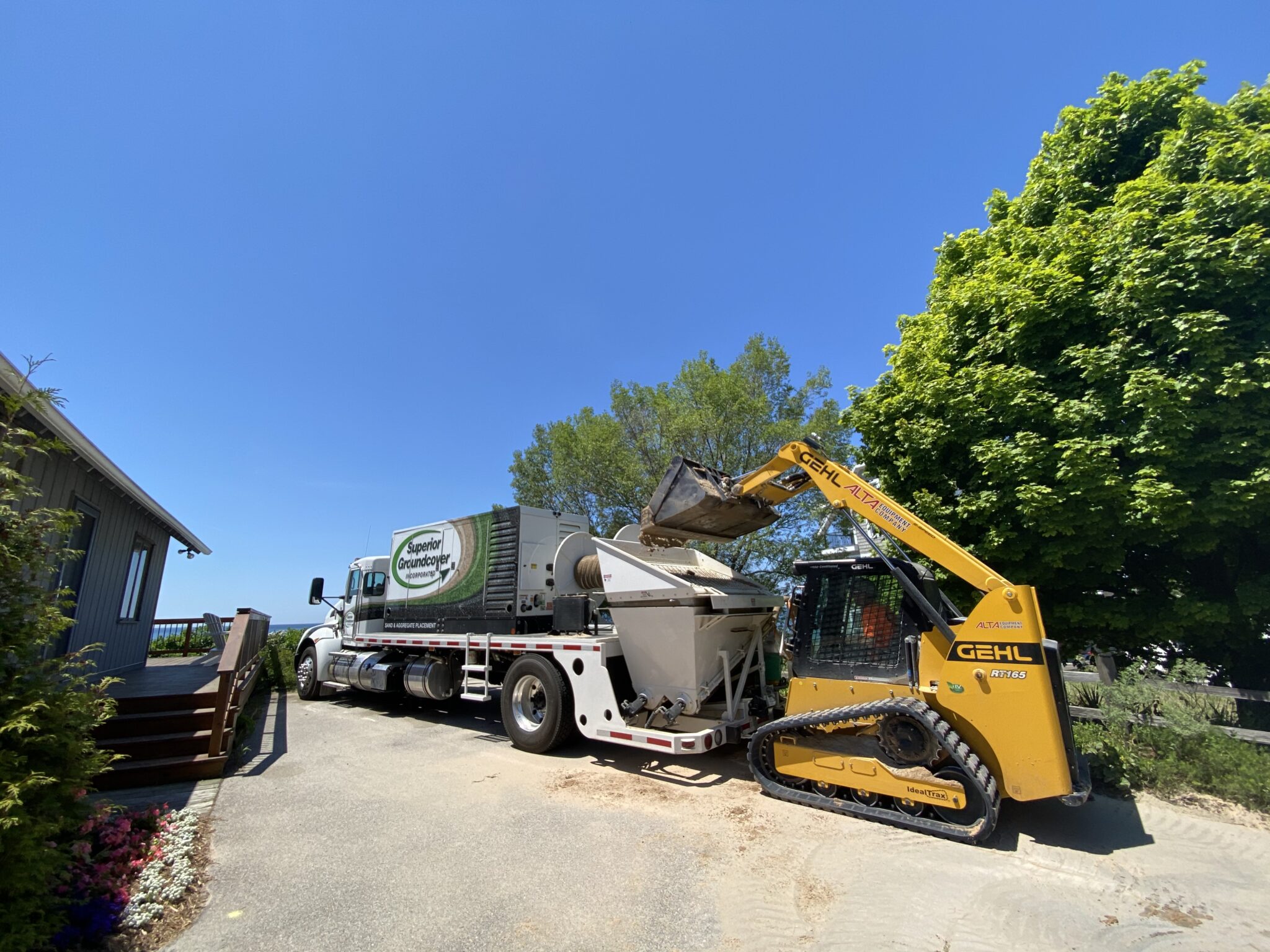 Erosion Management Services
If your property is near a lake or river, it is important to take steps to protect it from potential erosion. Without someone regularly checking on the property, it can be easy for erosion to creep up and threaten a house or business just weeks after a major storm or flooding event. Repairing damage from erosion can be a costly and time-consuming process.
Superior's erosion control solutions are designed to strengthen a property against erosion without ruining its aesthetic appeal. Our SOX solutions can be placed into the bank of a lake or river to strengthen them against erosion. They are made of a double layer of knitted polyethylene mesh with rip-stop technology that will hold material in place while allowing new vegetation to grow.
In areas where banks may be collapsing into the water and creating a swampy edge along the bank, SOX can turn the bank into a solid structure that allows vegetation to grow freely.
While SOX are often used along a body of water, they can also be placed on hillsides or berms to prevent erosion that could lead to landslides.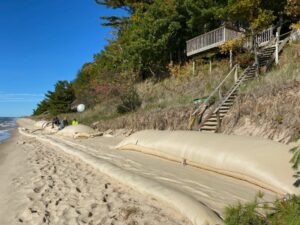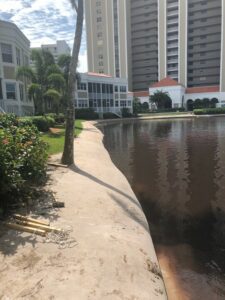 Sand Delivery & Installation
Superior Groundcover's sand delivery and installation services can fill a wide range of property management company needs. They can help mitigate beach erosion on lakeside properties, fill up in-ground pools, improve beach frontage, and create volleyball courts and playgrounds. For large scale projects, our blower and slinger trucks can install sand exactly where it needs to go within a matter of hours—and minimize any potential disruption for your tenants.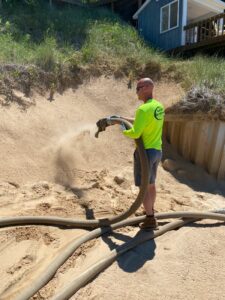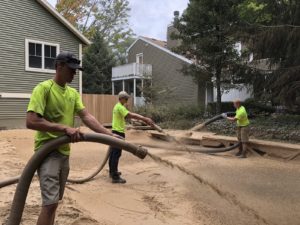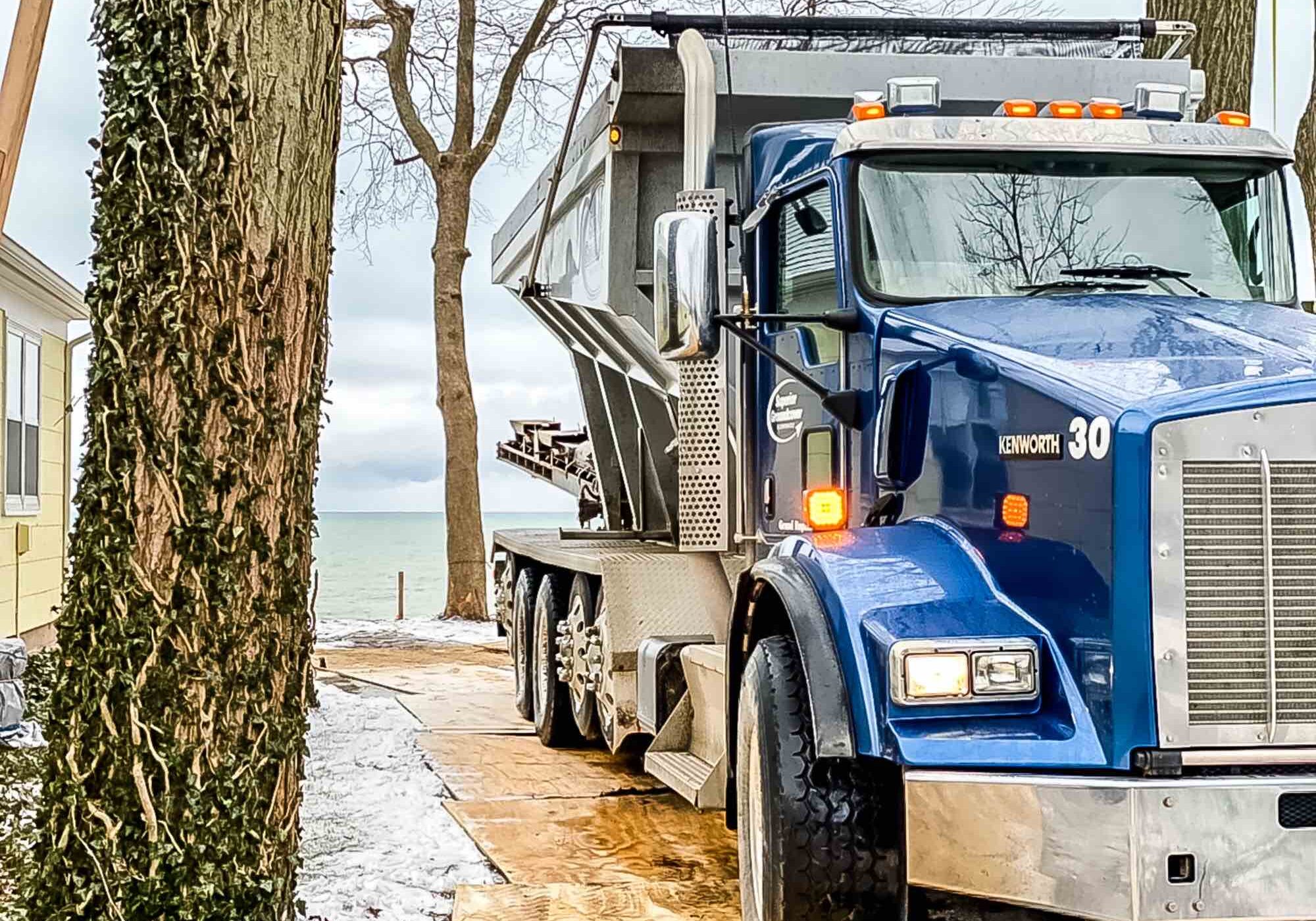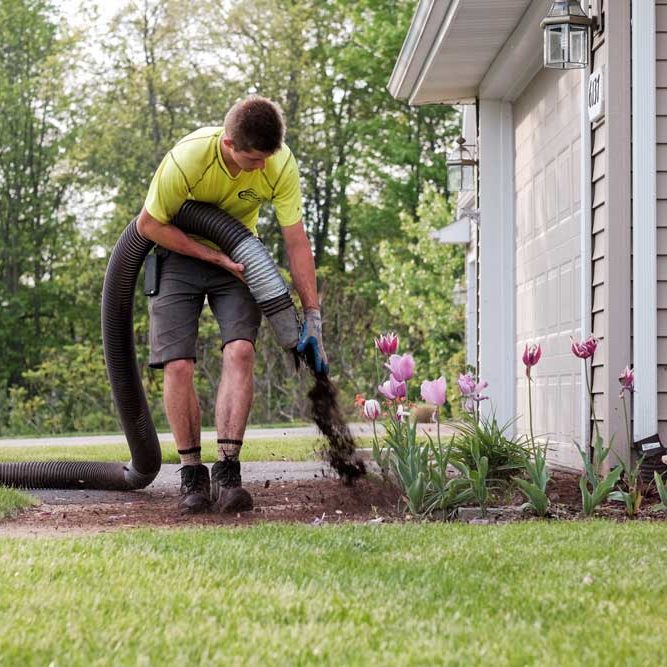 Commercial Mulch & Bark
Superior's material placement services can make rental property landscaping far more efficient. We can supply the exact amount of commercial mulch and bark that you need and place it exactly where you need it. Then your landscaping services will be able to install fresh plants and designs.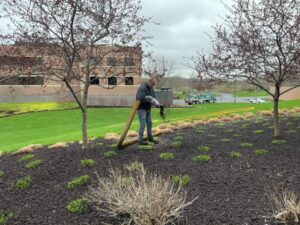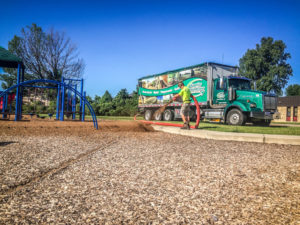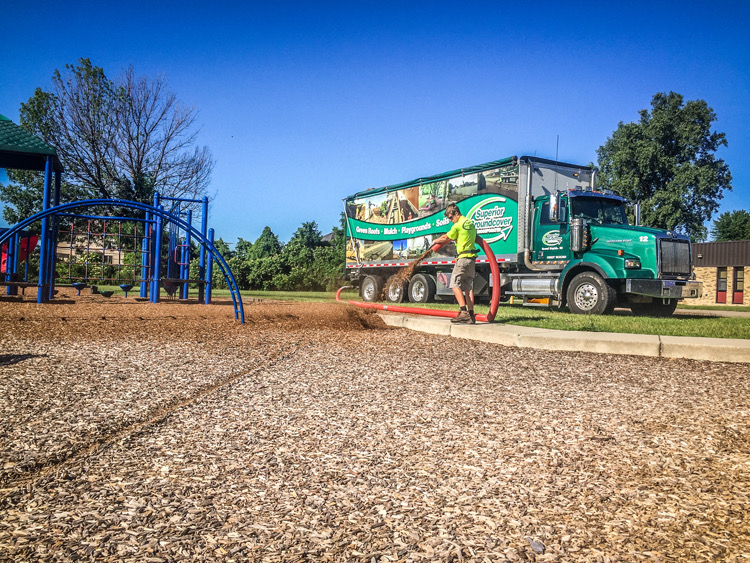 Commercial Soil Delivery & Installation
Whether you need commercial topsoil, compost, or a mixture of both, our teams will be able to install your materials within a matter of hours. Our soil has been expertly made to promote the growth of your plants by allowing them to absorb water and nutrients. Our materials also create a healthy ecosystem for helpful microorganisms, which encourages new growth.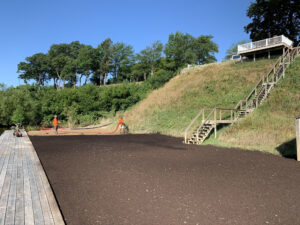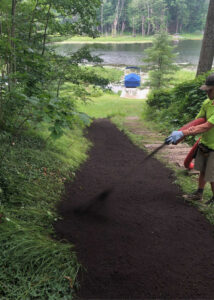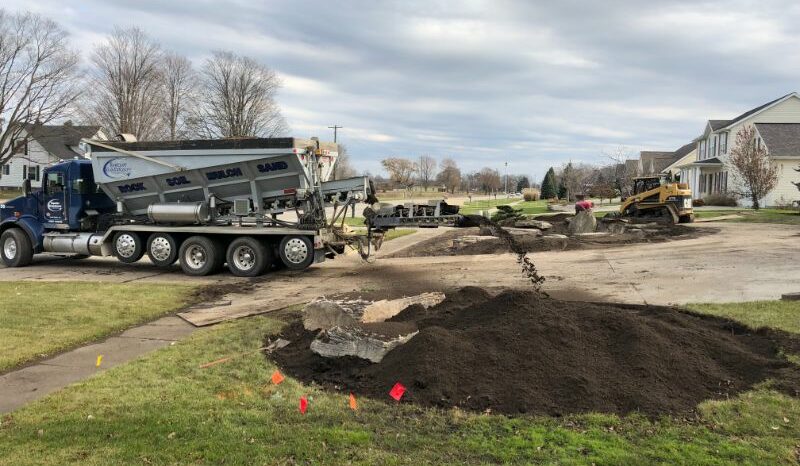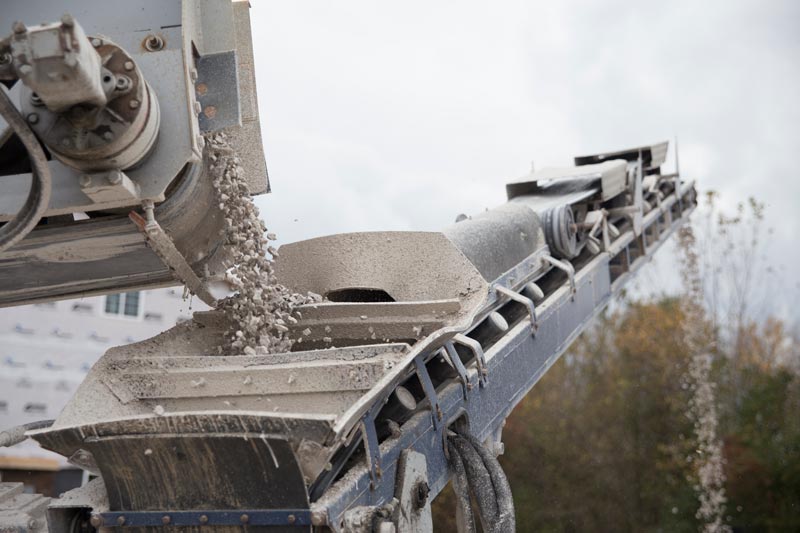 Stone Delivery & Installation
Stone is a popular choice for property management companies because of its balance of aesthetic appeal and low maintenance requirements. It is often used around buildings, trees, and other structures. Depending on the size of the job and where the installation is needed, our slinger trucks may also be able to place the stone in addition to delivering it.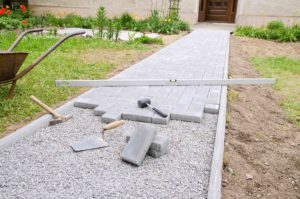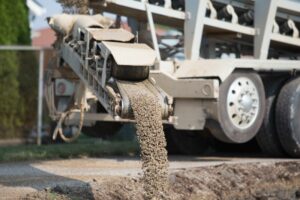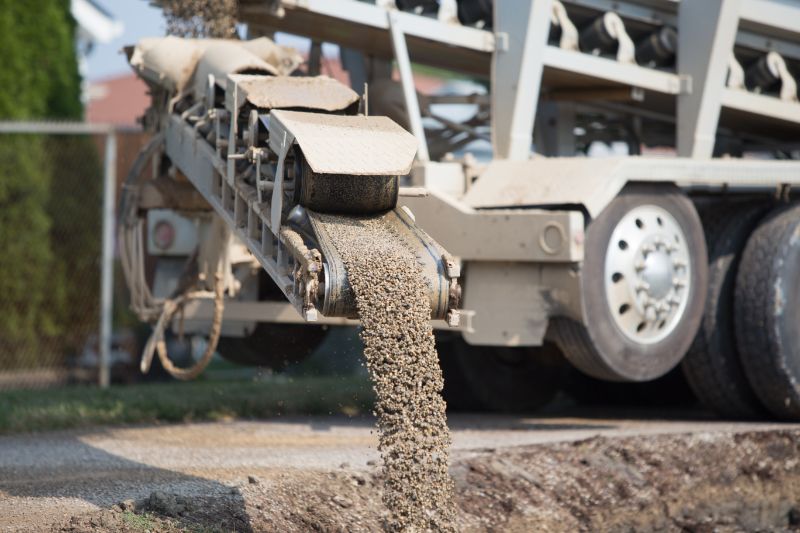 Why Choose Superior Groundcover?
Superior Groundcover has grown to become one of the top material placement providers in the Midwest because of our innovative services, professional staff, and large fleet of trucks.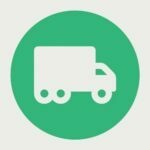 Our Fleet
Superior Groundcover has one of the largest and most effective fleets of slinger and blower trucks in the Midwest. We can quickly respond to the needs of numerous jobs at the same time. When you need a large-scale project completed, our extensive fleet of trucks and state-of-the-art equipment can get it done.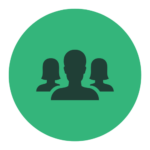 Our Team
Superior Groundcover has developed longstanding and strong relationships with property management companies because they love to work with our staff. They know that when Superior staff are on the job, they will exhibit the highest level of professionalism and attention to detail. We work hard to communicate effectively with our clients every step of the way and make sure they are satisfied with their results.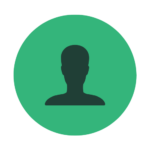 Our Clients
The staff at Superior work hard to provide high-quality commercial landscape supply and material placement services. We make sure to get the job done right and ensure the satisfaction of our clients. We have consistently worked with many landscaping companies and general contractors for years because they know how much we value our client relationships and they can see it in our work. Take a look at our reviews to see the professionalism and expertise of our staff for yourself.
"We use Superior ground cover for all our large properties. Always great clean work. Very friendly and knowledgeable staff too."
Jake S.
"I have worked with Superior Groundcover for several years and each time I use them I am still impressed at the quality work that they do. From scheduling to installation they are extremely professional and I have never had any callbacks regarding work they have done for me. From topsoil to bark to hydroseeding these guys are top notch!"
Matt S.
"We are a commercial customer of Superior Groundcover's and they are excellent to work with! We utilize them every season for mulch applications. Titus, Terry, and Andy are all very accommodating and they communicate very well. Their level of quality from installation to product to clean up is far superior than other companies in town!"
Nikki R.
"We hired Superior Groundcover to install a complex drainage system in our condominium community. Additionally, they needed to fill over the system with topsoil, level out our entire lawn, and hydroseed. Their knowledge and expertise on the many facets of drainage made a tremendous difference for our property. Andy, Mike, and Brad were professional, attentive, and a pleasure to work with. They have assembled a team of knowledgeable, efficient, and polite team members who know how to get a job done. We are delighted with the results and would highly recommend Superior Groundcover."
Melissa B.
Get Superior Services & Solutions
To find out more about how Superior Groundcover can help your property management company save money and improve its grounds, reach out to our staff.
Frequently Asked Questions (FAQ)