Learn more about our commercial hydroseeding services here or explore other hydroseeding services.
Spruce Up Your Business with Commercial Hydroseed
Impress customers, improve curb appeal, and increase property value with commercial hydroseeding in West Michigan.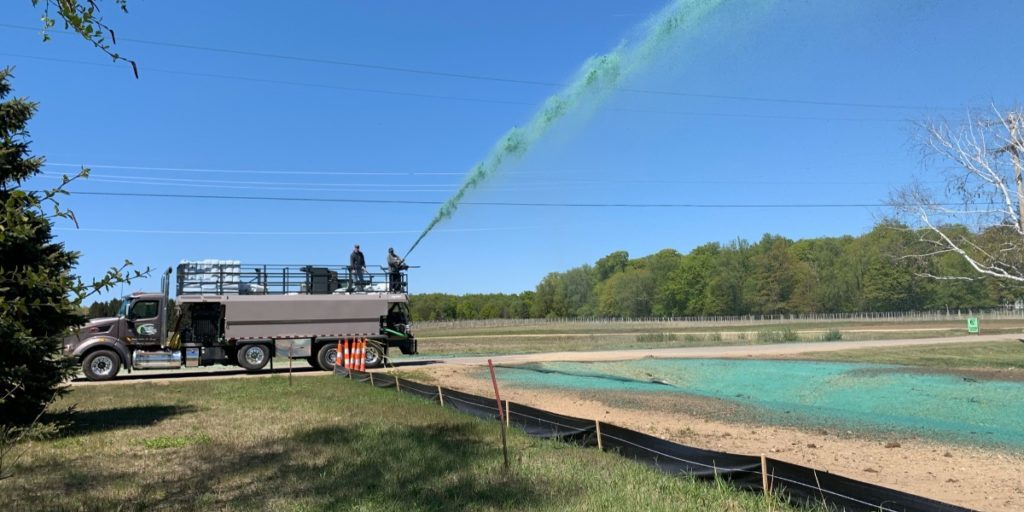 Contact Us
Questions? Text or call 616-283-6434
What Is Commercial Hydroseeding?
Commercial hydroseeding is an affordable and efficient way to seed a lawn. An easy-to-apply slurry of grass seed, mulch, fertilizer, soil amendments, and water is sprayed onto land. In just a few weeks' time, sprouts begin to pop, creating the vibrant and healthy lawn you've been envisioning.
At Superior Groundcover, we offer a comprehensive commercial hydroseeding process.
Step 1: Pre-seed soil test
Before we begin the hydroseeding, we need to determine what type of grass seed and mulch will give the best results based on the condition of the soil at your property. We will provide a professional soil examination for a fee upon request to help us make that distinction.
Step 2: Site preparation
To maximize grass growth and retention, we will grade your land with various types of equipment, allowing for an even, full coverage layer of seed that can deeply penetrate the ground, creating the perfect conditions for a durable, long-lasting lawn.
Step 3: Slurry application
We will spread the moist mulch and seed mixture throughout your yard via our hydroseeding truck. This specialized tank keeps the mixture thoroughly combined, and the long hose allows us to reach every part of your property without needing to drive onto fragile areas, reducing the chance of land erosion.
Step 4: Post-application cleanup
In the chance of overspray distributing the slurry outside of your intended yard, our crew will finish the application process by sweeping up, ensuring your surrounding pavement is free of debris.
Step 5: Consistent hydration & fertilization
Finally, we will walk you through the care schedule for your yard, including regular watering needs. To maximize and enhance the growth of your lawn, we recommend reapplying the starter fertilizer three more times after the initial application. If you'd like, we can do that for you!
Who Needs Commercial Hydroseeding?
Whether you want to create a lush, green lawn at your business that catches customers' attention, a thick field for agricultural purposes, a cost-effective solution for athletic field establishment, a beautiful yard for a home you're getting ready to list, or roadside vegetation to reduce erosion and increase aesthetic appeal in your community, our commercial hydroseeding services are the superior option for lawn development.
Commercial hydroseeding is more affordable and less laborious than other types of lawn establishment, like sod, and provides deep-rooted, even coverage. We have different seed blends to suit whatever project you have in mind.
Benefits of Commercial Lawn Hydroseeding
There are many reasons why lawn hydroseeding is the best choice for commercial properties, including: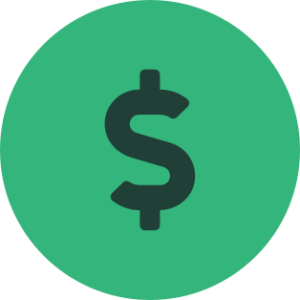 Affordability
In comparison to other popular choices for lawn establishment, like sodding, hydroseeding is significantly cheaper—often by $1,000.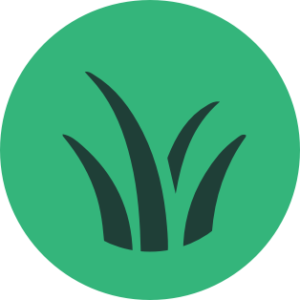 Durability
Hydroseeding allows for roots to create a sturdy, long-lasting foundation, which not only provides you a lawn for years to come but also reduces the chance of erosion. Sod, on the other hand, lays on top of the ground, and has a much higher chance of shifting or being pulled up, exposing the barren ground underneath. Hydroseeding mitigates the chance of restorative costs down the road.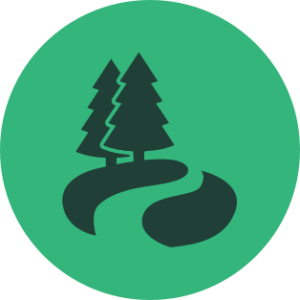 Versatility
Due to its sprayable liquid form, hydroseeding is great for both flat and sloped areas of land. Hard-to-reach environments, like roadside embankments, are a breeze to seed because of our long application hose. Hydroseeding also allows you to customize your seed mixture—whether you're seeking grass for your farm or athletic field, or even want to add a field of wildflowers to your property, hydroseeding allows you options that other methods do not.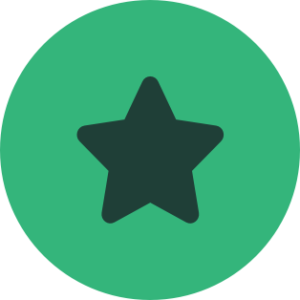 Quality
No one wants to deal with weeds. They not only detract from the visual appeal of your lawn but are also difficult and expensive to eliminate once they begin to sprout and spread. Our high-quality hydroseed mixtures are formulated to contain the fewest amount of weed seeds, as well as a weed pre-emergent additive, ensuring your lawn is uniform and requires minimal upkeep.
Cost of Commercial Hydroseeding
The difficulty of installation: If your land requires more vigorous grading or soil restoration, the pre-seeding price may be increased.
The slope of the land: In some cases, to mitigate the slurry sliding off of inclined land, more materials or multiple applications may be required, which would impact the cost.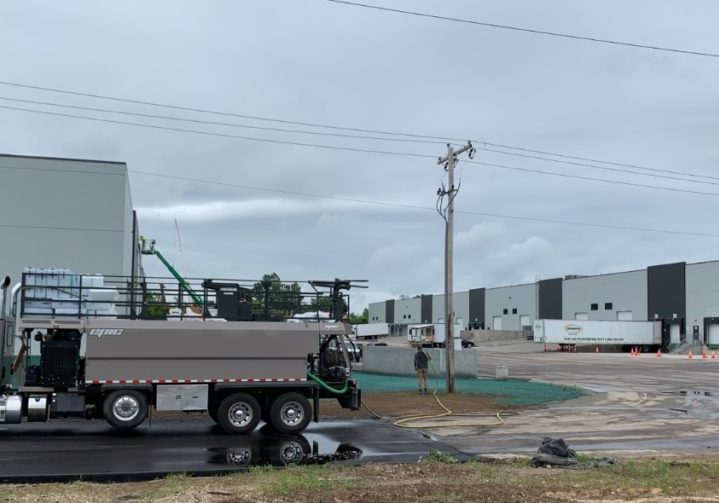 DIY Grass Seed Spray vs. Professional Commercial Hydroseed
You can complete your own commercial hydroseeding, though there are some significant drawbacks that are not present when a professional company provides installation.
For example, specialized pumps and tanks are necessary to evenly distribute the slurry mixture. While you can rent this equipment, it is expensive, and the process of spreading seed properly is difficult when attempted by amateurs. It can easily lead to a sparse, patchy lawn that requires a professional company to come in and provide reparative services.
Our team has been providing lawn establishment services for many years, and has the process down perfectly, ensuring a quick, comprehensive coverage that creates an immaculately even lawn. We provide you with necessary information on proper watering and fertilizing timelines, and are available to answer any questions that arise during and after your lawn application.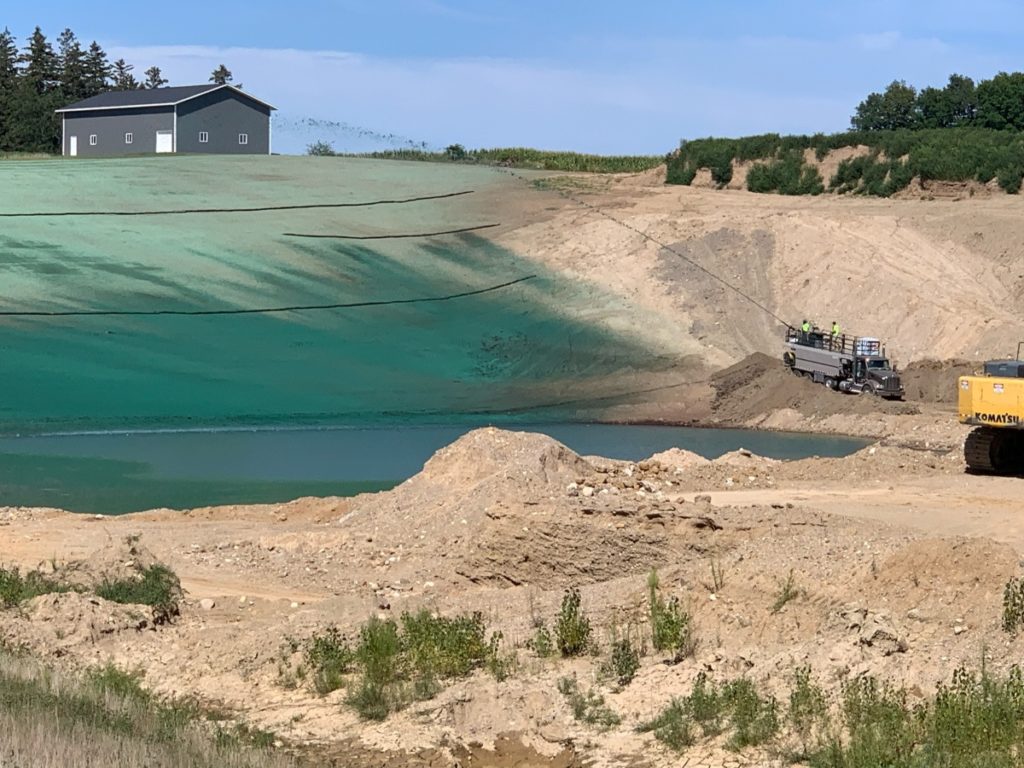 Hydroseed
Commercial Hydroseeding by Superior Groundcover
For over 20 years, our team at Superior Groundcover has been providing groundcover solutions for customers all over the country. A fresh, green lawn is one of the first components people will notice when arriving at your business, and that is why we have created our process with you in mind. We strive to provide the most stable, long-lasting, healthy lawn, ensuring maximum quality with minimal upkeep.
Get a Free Quote!
To determine if a commercial grass seed spray like hydroseeding suits your company's lawn needs, send us a message on your project. We are happy to get back to you with a free hydroseeding estimate.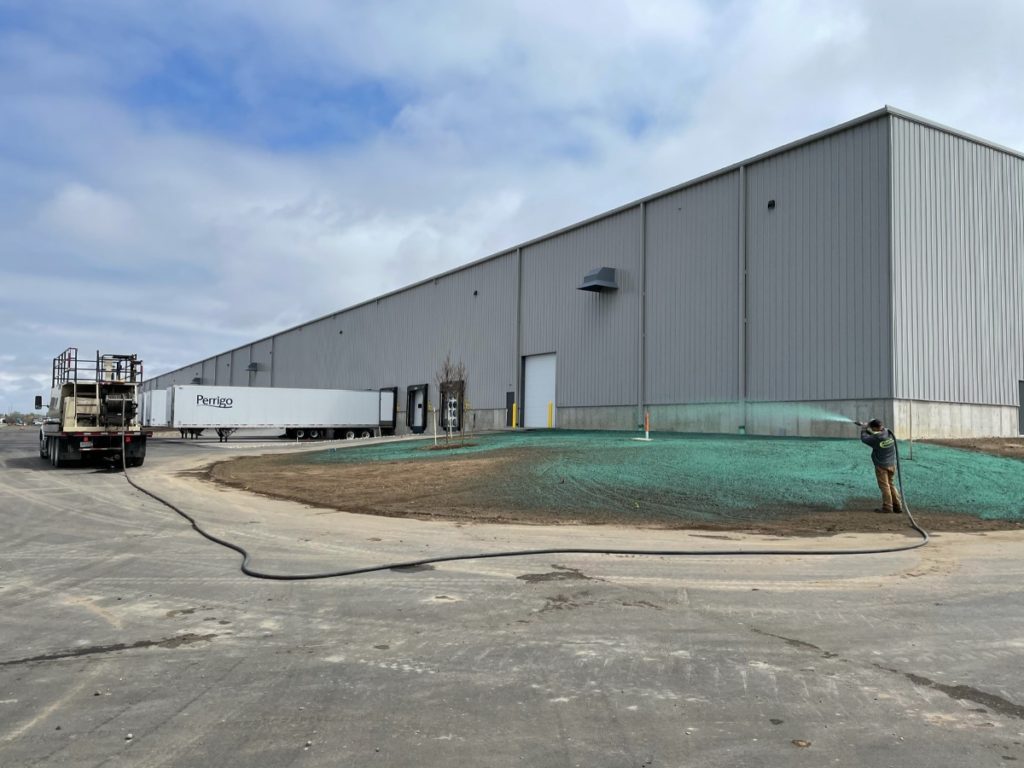 Hydroseed
Frequently Asked Questions (FAQ)
The actual hydroseed application process only takes a few days, from the soil test and lawn grading to the slurry being sprayed. From there, the hydroseed begins to sprout within 5–7 days—it will be a few weeks before it is long enough to mow.
The entire process is fast enough that if your business requires a lawn to provide services, we can start it a month or two prior to your season beginning, and you will have a lush lawn before you know it.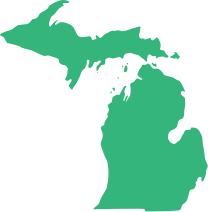 Installation & Delivery Services
Commercial Hydroseeding in Michigan
We offer premium-quality hydroseeding for commercial lawns throughout the state of Michigan:
Sorry, we couldn't find any posts. Please try a different search.