Superior Services & Solutions
Industry Leaders in Material Placement
Specialized Material Placement Applications
Superior Groundcover is an experienced industry leader, offering hydroseeding, sand, soil, stone, and mulch installation services throughout the Midwest.
Superior Groundcover provides all the materials as well as impeccable installation services—all you need to do is contact us with your needs, and we take it from there.
Superior Standards
Superior Groundcover, Inc. was established in March of 2000 and has been
providing a variety of industries in Michigan and Indiana with true and
tested ground covering services ever since. We are passionate about not
only making your space more sustainable and functional, but also more
aesthetically pleasing.
a team of
Versatile Professionals
We are your one-stop shop for a wide range of needs, from erosion control to foundation drainage to innovative green roofs to creating stunning lawns. Not only do we supply highquality materials for your needs, but we also install them, making the process simple, efficient, and affordable. Our years of experience have enabled us to master a variety of processes, and we are excited to work with you to create a unique solution that suits your needs and delivers your vision.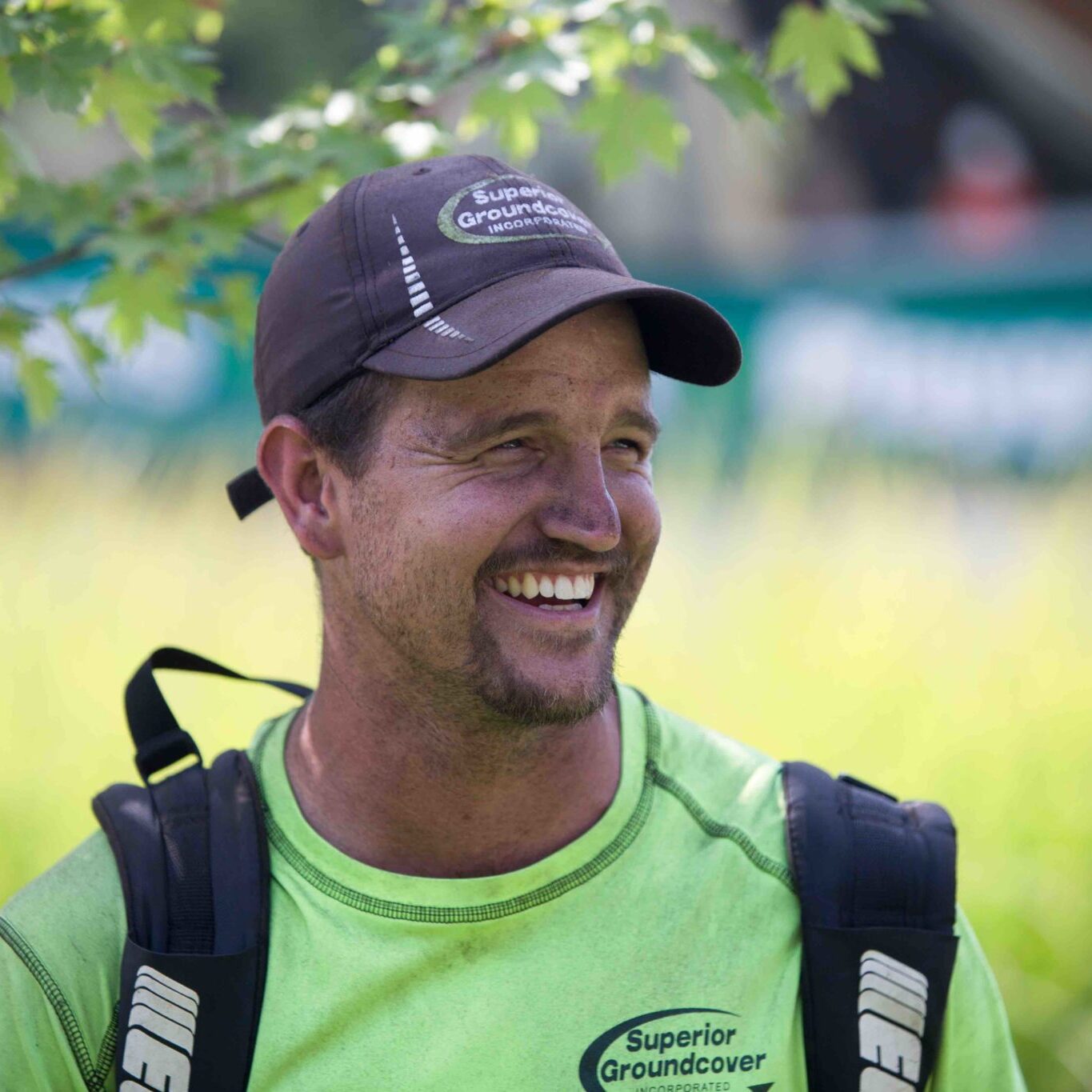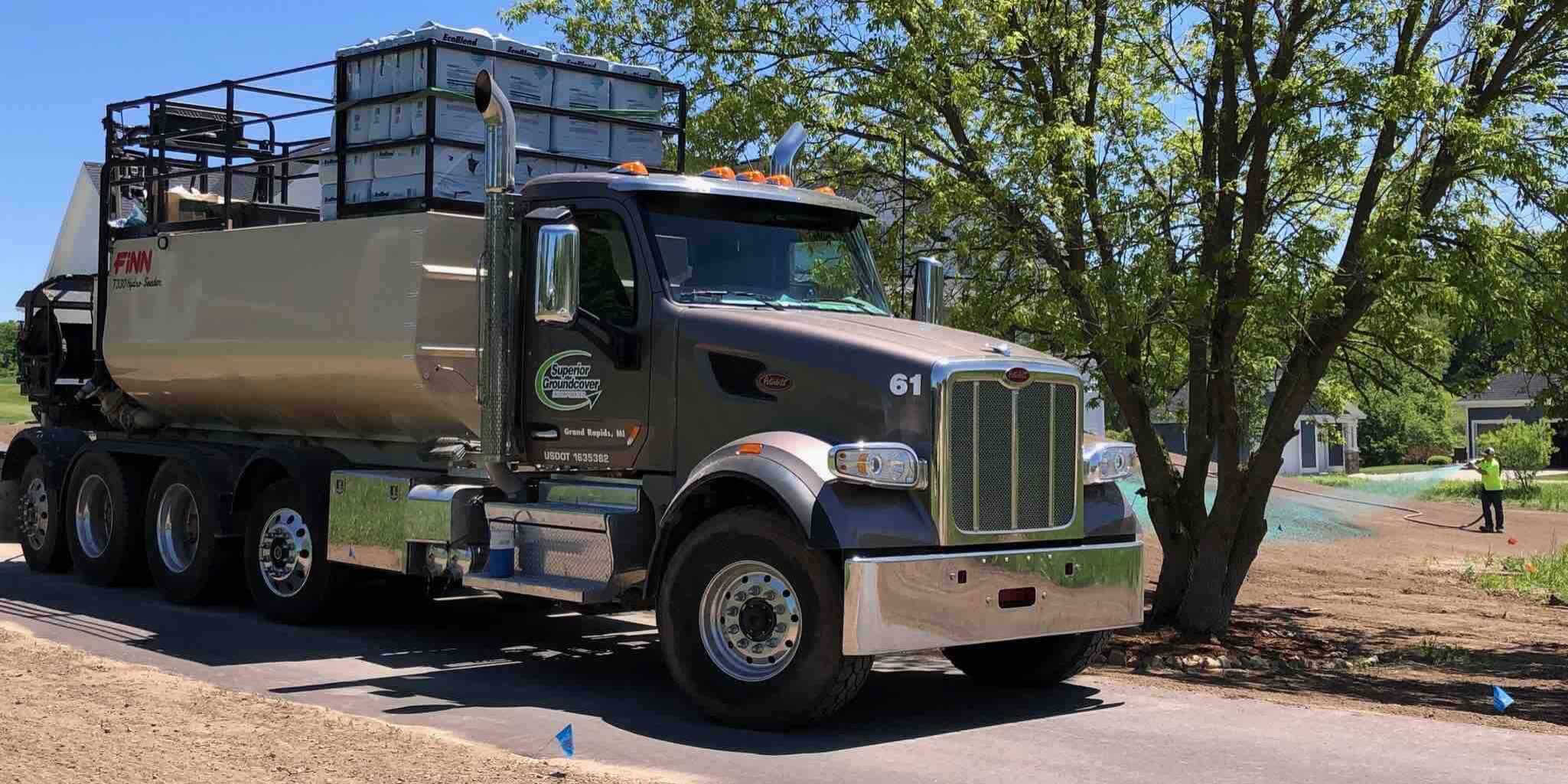 Experts in Media Placement.
Superior's erosion control services have been recognized at the highest levels. We were proud to receive a 2015 award from the Michigan Association of County Drain Commissioners for our part in a drain improvement project for the Kent County Drain Commission in Grand Rapids.
The permanent vegetation establishment we created with our terraseeding process, which involved compost mixed with seed applied with our blower trucks, was recognized for both innovation and excellence. Today, we continue to strive for that same level of quality and service in all that we do at Superior.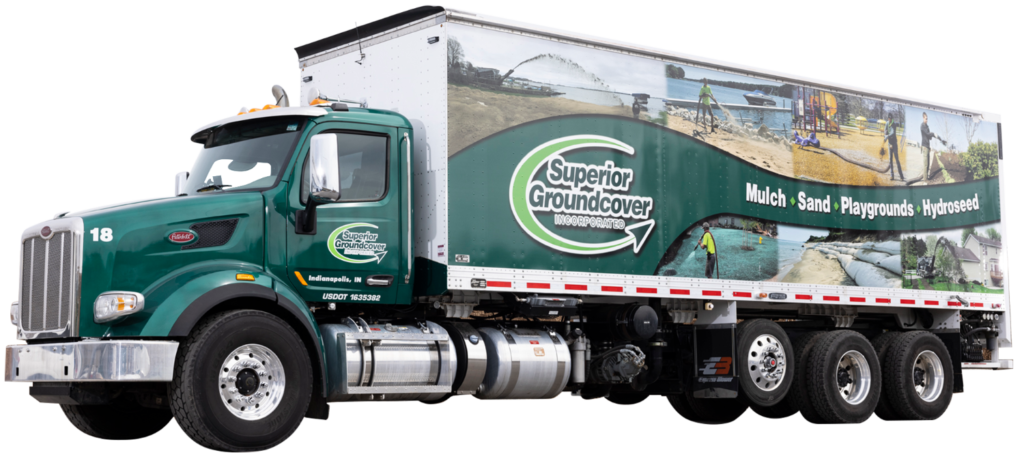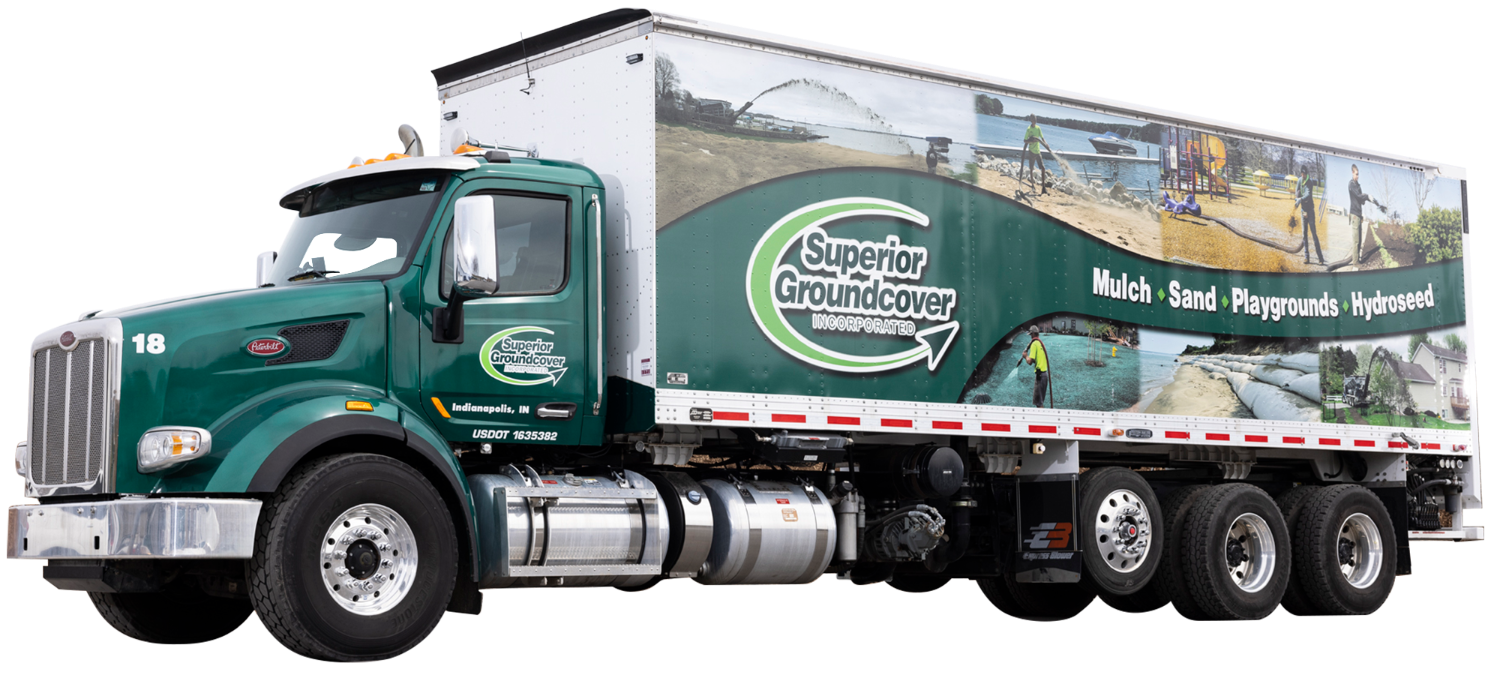 Blower Truck
Our blower trucks allow us to precisely apply material of many kinds, including:
Landscape Bark and Mulch
Playground Mulch
Compost
Crushed Stone, Round Stone
Peastone, Chips and Dust
Fill Sand
Beach Sand
Green Roof Soil
ClosureTurf Sand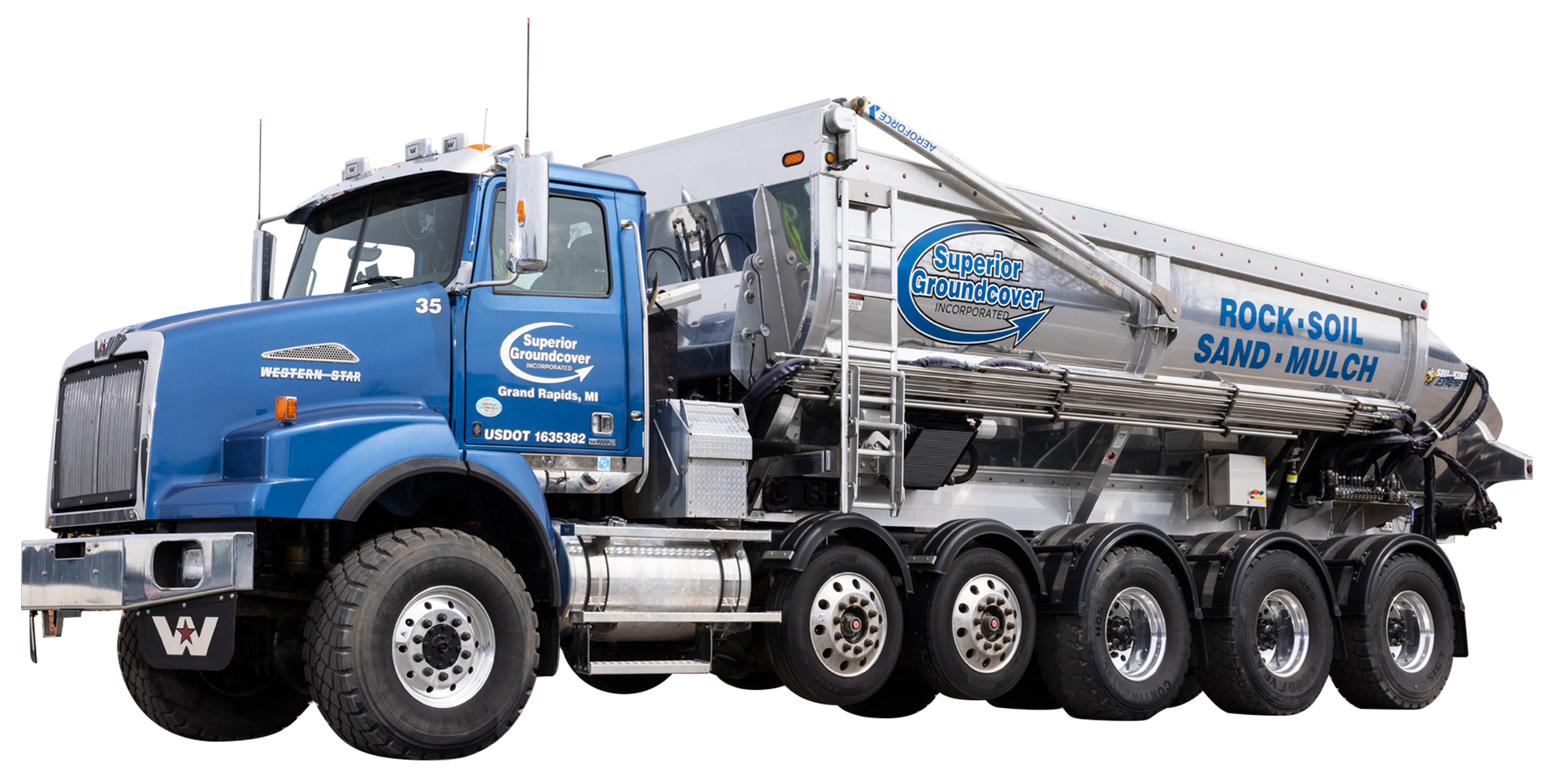 Slinger Truck
Often called stone slinger trucks, they are ideal for spreading many kinds of substrate, including:
Peastone
Crushed Concrete
Topsoil
Compost
Fill Sand
Beach Sand
Aggregates up to 2.5"
Hydroseed Truck
Our hydroseed trucks are specialized vehicles designed to spray and spread materials including:
Hydroseeding
Hydromulch
ProGanics Biotic Soil Media
ClosureTurf ArmorFill
From Our Clients
We have always been driven to deliver impeccable customer service. Our entire team, from our main office staff to our installers, treats each and every client with as much care as they would their own family.
"Superior Groundcover provided our school with playground mulch. Their price was very fair. They did a very professional job! We will use them every time!"
"I am very happy with the service we get from Superior Groundcover at our Salem Township Park. They are very spontaneous and professional, resulting in a GREAT job every time."
"Great service and product!! Been purchasing from them for years and have never been disappointed. Competitive prices keeps me coming back. Very quick service with truck capable of blowing in material in a fraction of the time of traditional installation methods."
"We hired Superior Groundcover to install a complex drainage system in our condominium community. Additionally, they needed to fill over the system with topsoil, level out our entire lawn, and hydroseed. Their knowledge and expertise on the many facets of drainage made a tremendous difference for our property. Andy, Mike, and Brad were professional, attentive, and a pleasure to work with. They have assembled a team of knowledgeable, efficient, and polite team members who know how to get a job done. We are delighted with the results and would highly recommend Superior Groundcover."
"I have worked with Superior Groundcover for over 10 years. They have helped my company install thousands of yards of woodbark/mulch. They are efficient, take care of the details, and competitive in their pricing. I would highly recommend them."
"The team at Superior has taken great care of us and our clients. We operate a mid-sized lawn and landscape firm in West Michigan and have enjoyed using Superior to help with our mulch and soil installation on many of our sites. Their entire team has been polite and professional with our clients."
"I have worked with Superior Groundcover for several years and each time I use them I am still impressed at the quality work that they do. From scheduling to installation they are extremely professional and I have never had any callbacks regarding the work they have done for me. From topsoil to bark to hydroseeding these guys are top-notch!"
"We are a commercial customer of Superior Groundcover's and they are excellent to work with! We utilize them every season for mulch applications. Titus, Terry, and Andy are all very accommodating and they communicate very well. Their level of quality from installation to product to clean up is far superior than other companies in town!"
"We have been using SGC for some time now. Their service is professional and a great time saver for us. Always willing to adapt to changing conditions and client needs. I would highly recommend them for any of the services they offer."
"We just started working with Superior Groundcover for the first time. So far I have been extremely impressed! The communication is excellent, the people are friendly, and I sense that there is integrity in everything they do."