What are geotextile tubes?
Geotextile tubes are large bags made of permeable woven geotextiles, which are stronger than standard sand bags. They are used in many civil engineering and erosion control projects like embankments, retaining walls, reservoirs, bank protection and stabilization, as well as coastal erosion control.
Geotextile tubes work for shoreline protection and erosion control by acting as a permanent or temporary containment structure. Geotextile tubes can also be used to create seawalls, or sand dune cores.
What are the uses of Geotextile tubes?
Geotextile tubes are excellent for a variety of dewatering projects because they are both easy to use and cost-effective. Some of the uses of geotextile tubes include:
Land reclamation
Island creation
Shoreline erosion control
Revetments
Breakwaters
Dams and dikes
Geotextile tubes for coastal protection
Geotextile tubes have been used to protect shorelines, reclaim land, and rebuild beaches for years. They can be used to create sand dune cores, breakwaters, underwater structures and more. Geotextile tube benefits include protecting the shoreline, affordability, custom solutions, simple and easy installation, durability, accuracy, and more.
Geotextile tubes can also successfully protect property from storms such as hurricanes and the storm surges they cause. Using a geotextile tube will help trap sand and hold it in place to prevent continued erosion.
Additionally, geotextile tubes can be used as breakwater walls. They are able to absorb the impact from waves, diminishing their strength when they hit the shore and minimizing erosive patterns.
Geotextile tubes can be used to form seawalls. By stacking geotextile tubes, seawalls can be formed to help protect homes and property from storm waves and rising water levels.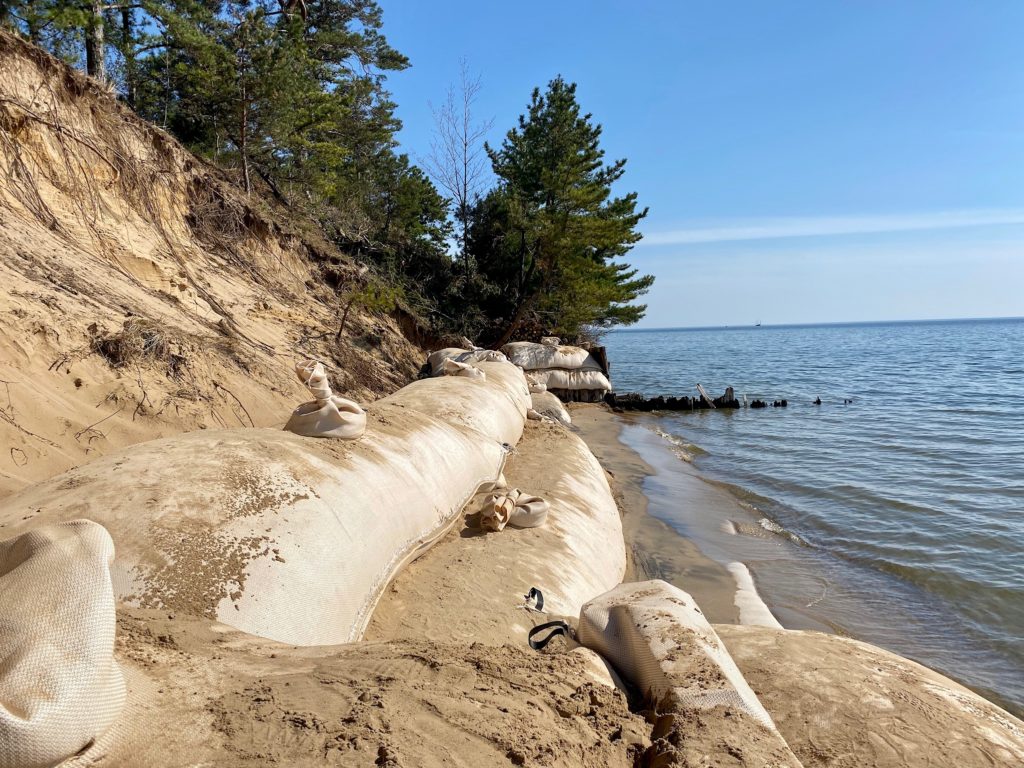 Geotextile tubes for water containment
Geotextile tubes are easy to deploy and extremely efficient and cost-effective water containment structures.
What are geotextile tubes made out of or filled with?
Superior Ground Cover blows dry sand into the bags using specialized sand blower trucks, shipping in clean, dry sand from an upland source as EGLE requires.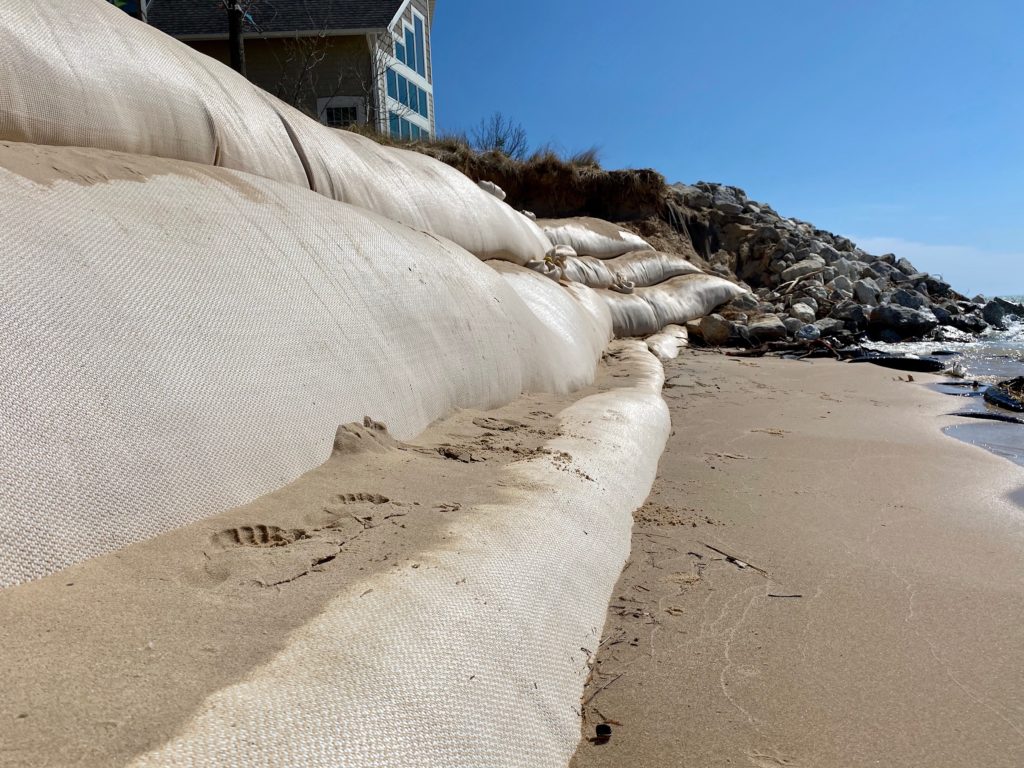 How are geotextile tubes installed?
The geotextile tubes are first placed where they will be installed. Superior then uses the fleet of sand blower trucks to blow dry sand directly into the tubes, using clean, dry sand from an upland source.
After installation, the area around the geotextile tubes must be further stabilized by sodding or planting. Vegetation is highly important for erosion control because plant root systems help hold soil and sand in place. It also helps create a more appealing, natural look.
Using geotextile tubes for erosion control offers additional environmental benefits. The geotextile helps clean rainwater runoff of fertilizers and other harmful chemicals.