In Michigan, the best deck builders are the ones who know the best material for deck building, and the best methods for doing it right. If you are building a deck on Lake Michigan, there are also some important steps to take to prevent erosion. Read on for everything you need to know about how to best approach deck building on Lake Michigan and the best materials to use.
What's the best material to use to build decks in Michigan?
Michigan weather can be wet and humid, especially on the lake. So when it comes to the best decking material for Michigan, you'll need something that can withstand the elements. PVC or plastic decking is becoming more popular, as is composite decking. PVC and composite decking are more expensive than wood decking but they will last longer with less maintenance. Composite decking is wrapped in vinyl or PVC material and is the best material for curved decks. If you want a natural feel and look, you can always go with wood.
What's the best wood for decks?
The best wood for decks is any species with a dense cell structure. It makes it more resistant to rot, mold and insects. Most contractors will recommend cedar, redwood or any pressure-treated wood. 
Are wood decks long-lasting? 
How long wood decks last depends on how well they are maintained and how well they are built. A wood deck can last up to 30 years if regularly maintained using the best deck stain for Michigan weather. Pressure-treated wood or composite/PVC decks can last up to 50 years.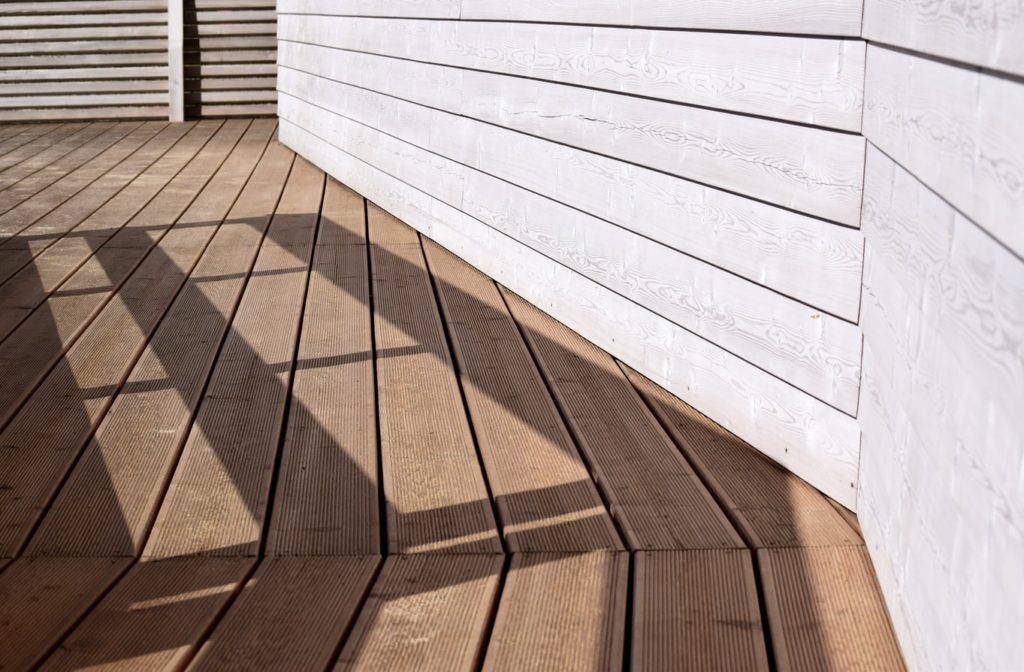 Can decks be built in winter in Michigan?
Believe it or not, winter is the best time to build a deck. It's usually a slow season in the deck construction industry which means you can save money on labor and materials. Not only that, but building a deck in winter is better timing for wood decks because humidity levels are low, which helps to stabilize the wood. 
Can decks be built on lakefront or waterfront properties?
The short answer is yes. Lake decks are common and are popular for watching sunsets and enjoying the view of the water. However, building a deck on a waterfront property is not your average construction project and you should make sure you work with a reputable builder and landscaping expert, plus do your research on zoning laws and restrictions.
Do you need a permit for a deck construction project?
For your lake deck ideas to become reality, you must get a construction permit, according to the Michigan Residential Code. The Michigan Department of Building and Safety must approve your construction plans. Government officials will make sure your plan has correct railing heights, stair specifications and other safety and environmental features.
How are decks constructed in Michigan and on Lake Michigan?
Michigan decking construction methods are varied, but all contractors are required to adhere to the Residential Wood Deck Construction Guide by the Southeast Michigan Building Officials and Inspectors Association (SEMBOIA).
Can curved decks be built?
Curved wood decks have a great aesthetic look and will make your lakefront property look amazing. However, composite decking material is required for a curved deck. These are custom decks that require a little more time and effort, so search "custom deck builders near me" to find a reputable contractor who can do the job.
Deck with borders?
A deck with a border covers the unsightly end pieces of your deck's wood or composite boards. It's also called racetrack decking or picture framing. It's an easy method of using blocking between the joists to support the framing boards. With composite boards, you can use a different color for your frame boards for a great look. 
Multi-level decks?
Multi-level decks are great for lakefront properties that slope down to the waterfront. Covered deck builders can design a deck that has both interior and exterior components. The issue with a multi-level deck is cost as a multi-level deck greatly increases your planning, materials and labor time. 
What is an underdeck system or dryspace under the deck?
An underdeck system is an ingenious deck design that allows you to create a second-story deck with a dry, outdoor living area below. The best underdeck systems are made from solid vinyl and attach to the underside of the joists.
How is this kept dry or how is it drained?
A dryspace deck drainage system creates a weather-proof barrier between the deck above and the living space below. Water from the deck above falls onto the vinyl sheets and gets transferred into a gutter system to keep the area beneath the deck dry.
What are the cost factors for a deck built in Michigan?
According to HomeAdvisor, an average new deck costs $7,694, with materials and labor making up about half of the total cost. For example, a 20-foot by 16-foot deck would cost roughly $16,000.
Is there an expected cost range to look for?
The average range for deck building is between $4,155 and $11,234, based on an average cost per square foot of between $30 and $60.
Can decks built on the lake negatively affect the shoreline or erosion issues?
Yes, any type of human structure can negatively impact shorelines. Removal of natural vegetation, changing property levels and buildings and driveways all contribute to shoreline erosion. Shoreline erosion has to be on the front of every homeowner's mind on the lake.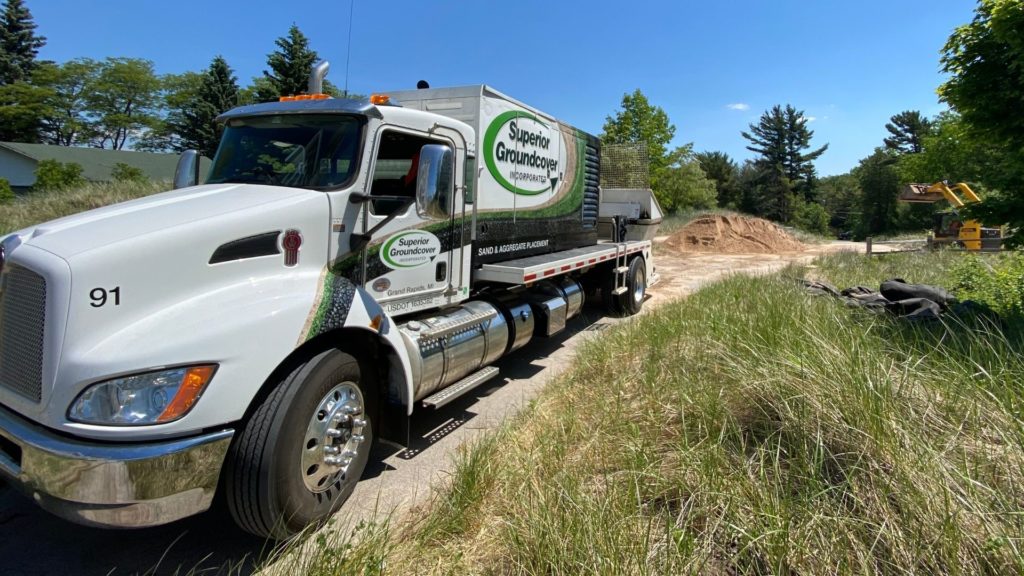 How can erosion associated with lakeside decks be minimized or avoided?
There are steps you can take as a lakeside property owner to minimize your impact on the shoreline. Using natural rocks, planting vegetation and backfill can all help. However, you need to know what you are doing. If done incorrectly, structures such as seawalls or adding sand backfill can make matters worse. It's best to call a landscaping professional who has erosion control and prevention experience.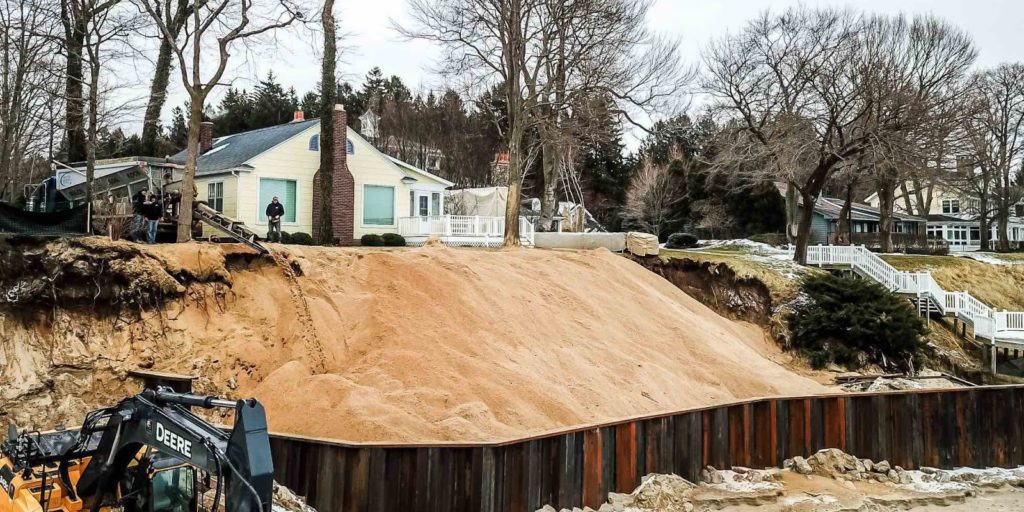 Can a deck actually serve as part of an erosion control plan for a lakeside property?
Responsible property owners on Lake Michigan should do everything they can to ensure that their lakefront deck does little to no environmental damage. Property owners and contractors can work together with landscaping experts to ensure a lakeside deck works to preserve the shoreline so that we all can enjoy many sunsets to come! 
Contact Superior Groundcover today to learn more about erosion dangers of deck building on Lake Michigan, shoreline erosion on Lake Michigan, or to get a quote on your shoreline project.