Beach Sand Delivery in Michigan & Installation for Renourishment
Michigan Shorelines
For many years, climate change has impacted the Great Lakes and has caused rising water levels in Michigan. 
One way to combat the erosion caused by higher water levels is shoreline renourishment. Scheduling beach sand delivery in Michigan so that beaches and lake shorelines are filled using efficient systems quickly. 
Water levels are predicted to increase year-over-year in Lake Michigan-Huron and are consistently reaching 32" to 35" above LTA levels during seasonal rises (US Army Corps of Engineers Detroit District, 2020). Sand delivery for renourishment projects is more important than ever. If you are wondering "what is beach renourishment and how does sand delivery make it possible?", read below.
What is Beach Renourishment?
In situations where armoring is not ideal, beach sand renourishment (also known as beach filling) offers an effective short-term solution to helping reduce Michigan beach erosion. With these types of renourishment projects, sand is transported in bulk and fills the shoreline.
Beach sand replenishment helps increase the width of the lake or beach shoreline, and it can be applied so that the sand will gradually rise to help provide a natural buffer for nearby properties and roads.
Environmental Concerns & Considerations
Harmful effects to animals and plant species due to sand renourishment was common in the past. With newer sand delivery applications, beach replenishment is done with care.
By selecting a type of sand similar in grain size and chemical makeup, fewer species are affected. In addition, through the use of Superior's slinger fleet, sand can be delivered and applied accurately up to 80 feet from the shoreline.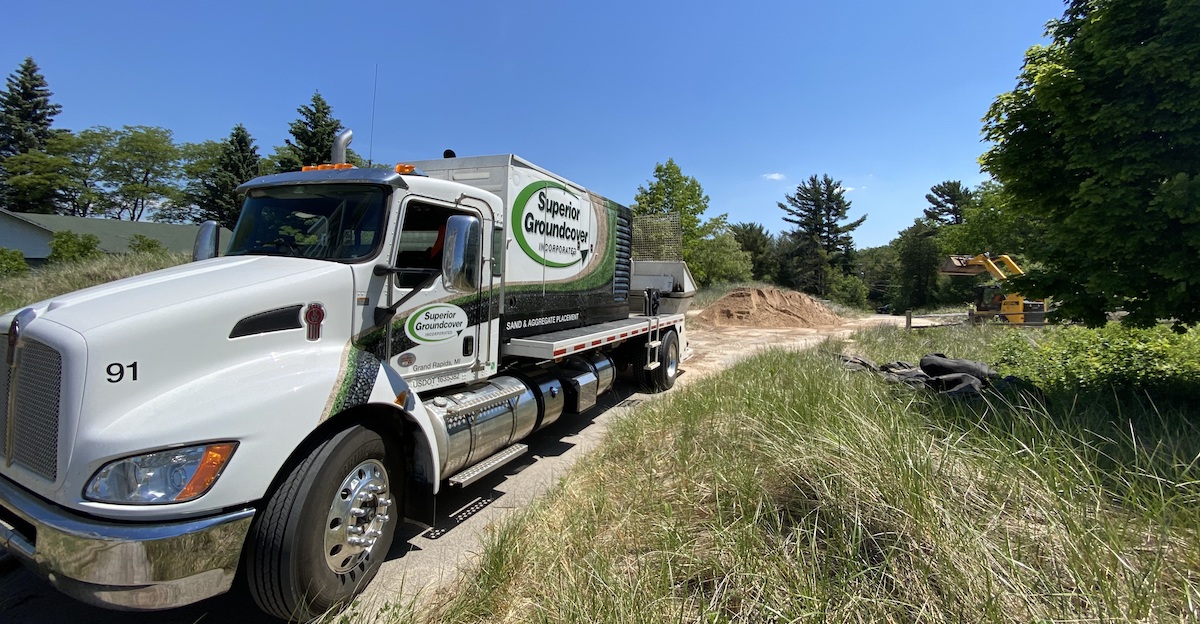 The Benefits of Beach Sand Delivery in Michigan
Due to the rising water levels in Michigan lakes and beaches, armoring with seawalls and other hard structures is no longer a long-term solution. In some areas, the water is now close to covering those structures.
Working with experienced erosion control and beach sand delivery companies provides benefits (such as time and efficiency) that bolster state and local district efforts.
Saves Time
Superior Ground Cover is a local provider of sand, sand delivery, and sand installation for renourishment projects. When searching online for "beach sand delivery near me", they have continuously been the go-to source to help associations and state officials combatting erosion. Through their reliable team and the use of specialized sand delivery and installation equipment, gone are the days of coordinating large groups of workers to haul wagon after wagon of sand to the desired location. The services are completed within a day with the majority of projects.
Precision
No sand delivery project is complete without a detailed plan for application. It is important to consider what sand levels work best for erosion control in a given shore. Here are two ways that Superior Ground Cover help make sand filling projects more precise and effective: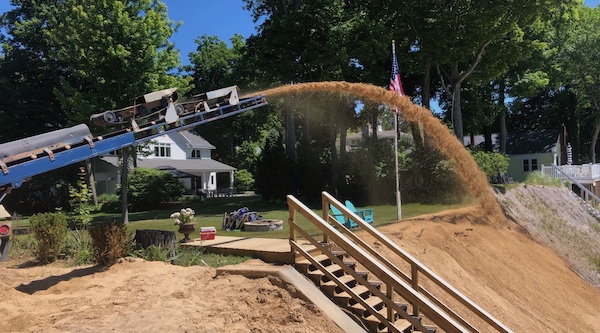 Bulk Beach Sand Delivery
While searching online for "beach sand delivery near me" may seem like a daunting task, it is well worth the time to find a provider who can provide efficient solutions. Superior Ground Cover provides large amounts of sand to Michigan shorelines through its bulk beach sand delivery services. When emergencies arise, the need for bulk quantities of sand is imperative. Call upon a company that has the amount needed for renourishment jobs, not small projects.
Where Can I Find Beach Sand for Sale in Michigan?
There are various types of beach sand for sale in Michigan used for erosion control projects. Superior is located in Grand Rapids, Michigan, and can deliver sand to neighboring states as well. Some of the types of sand that we can deliver are:
Large-grain sand - best for erosion control

Yellow sand

White beach sand
Call us to help you select the correct type of sand for your project.
Michigan Beach Erosion
According to a  report by Click On Detroit, "there are 3,000 miles of shoreline along the Great Lakes and thousands more along rivers and in-state bodies of water. Between 2019-20, water levels hit record highs, capping a long trend of high water."
Michigan beach erosion is a problem, and sand renourishment projects are now underway to help ease the effects of the rising water levels.
Most Impacted Lakes and Beaches
Some of the most popular beaches that are currently experiencing a large amount of erosion are: 
Lake Superior

Lake Michigan

Lake Huron

Lake St. Claire

Lake Erie
Sand delivery for restoration projects can combat the rising water levels in the short term. Contact Superior Ground Cover should your district require sand for their efforts.
Call Us For Beach Sand Delivery in Michigan
One of the best things about living in Michigan is the access to the beautiful beaches that line the coast. Erosion is severely impacting the environment and our neighbors. Should your association or local district require beach sand delivery, contact us today to help you select the proper sand and have it delivered and installed efficiently.