Geotextile Tubes & Sand Bag Installation
What are geotextile tubes or sandbags?
Geotextile tubes (also referred to as geo-tubes, dewatering tubes, erosion control tubes, or geotextile bags) are used for large shoreline protection, erosion control, dewatering and sludge removal projects.
Geotextile tubes are cost-effective solutions for containment, dewatering, desludging, and shoreline protection. They are typically composed of high-tenacity yarns woven together to function in marine applications.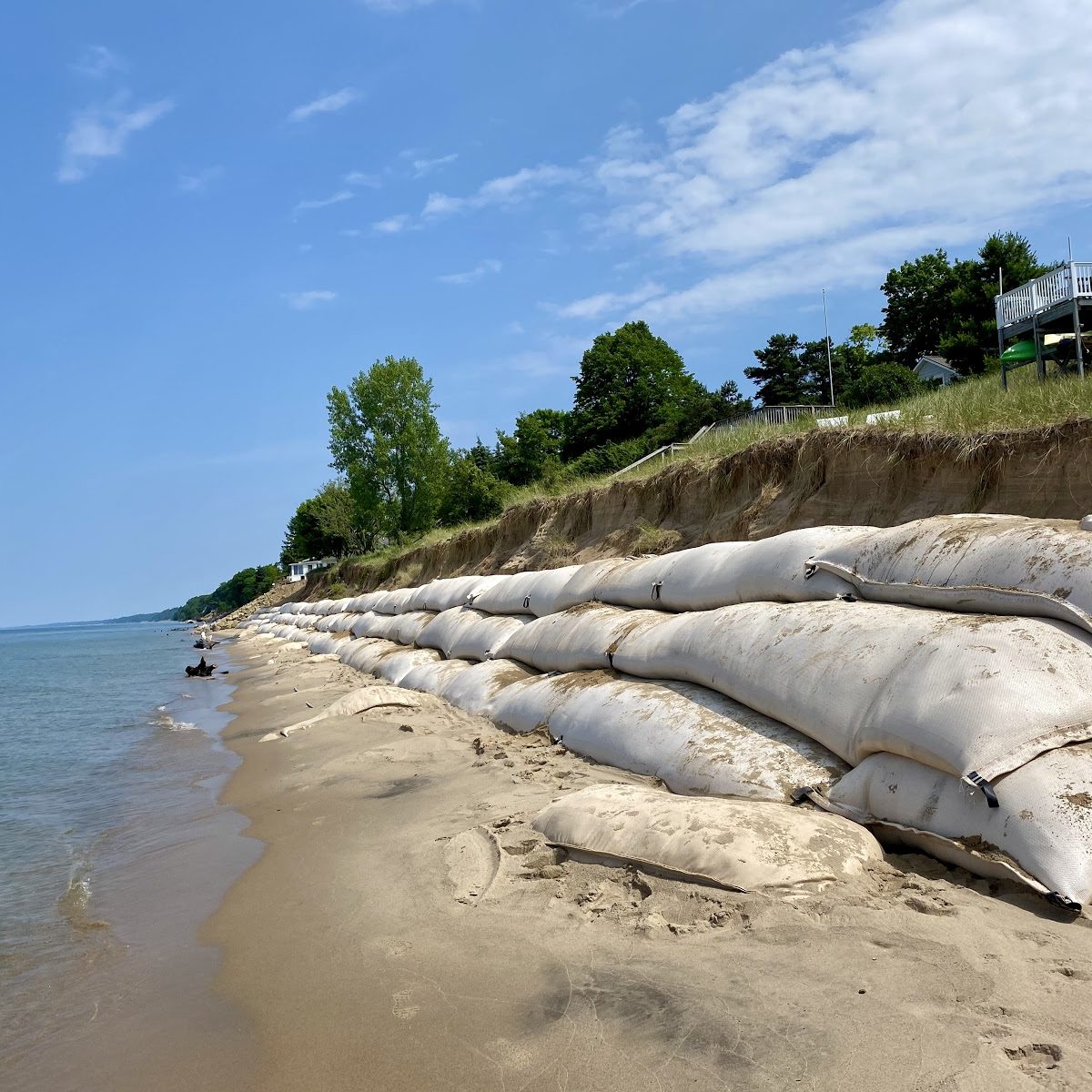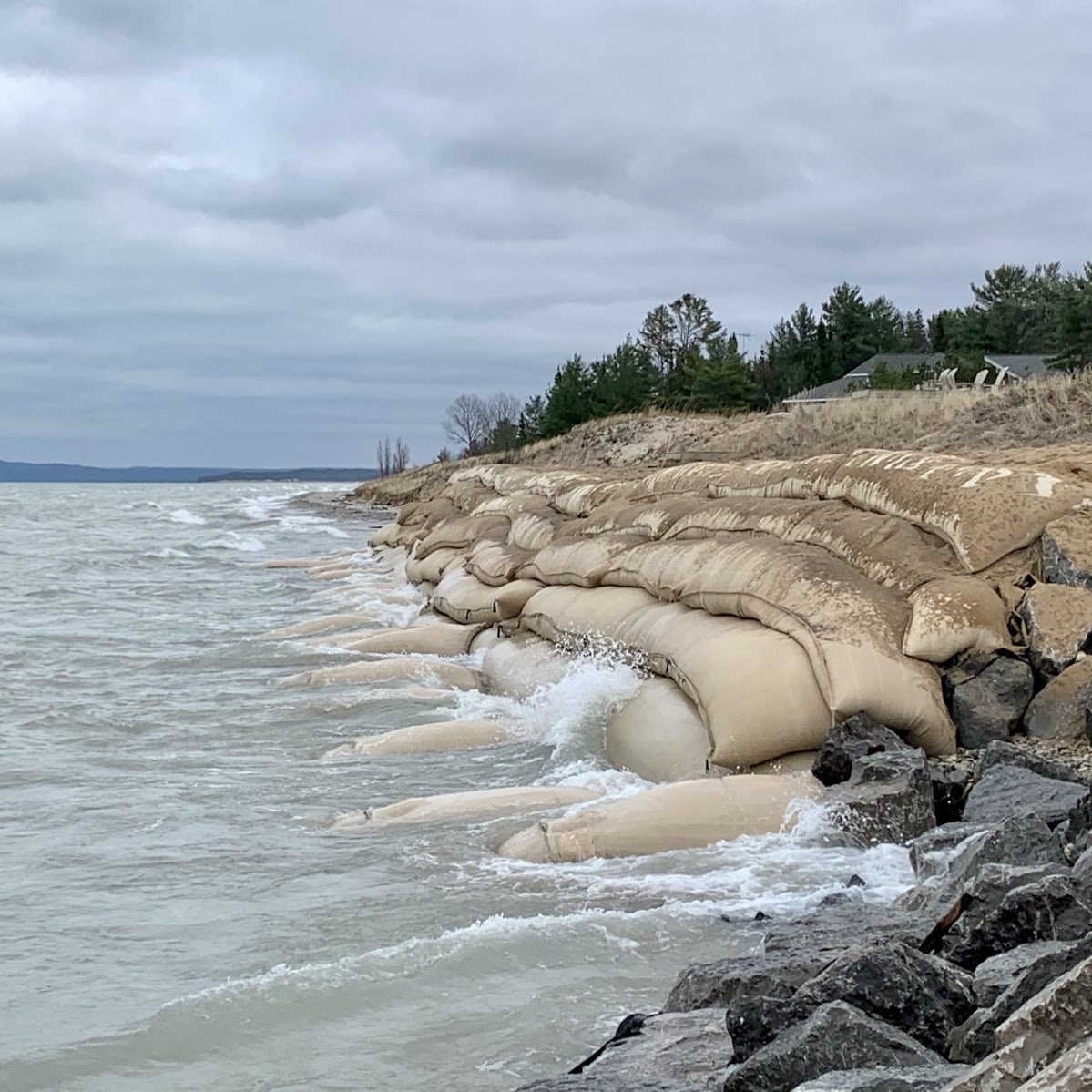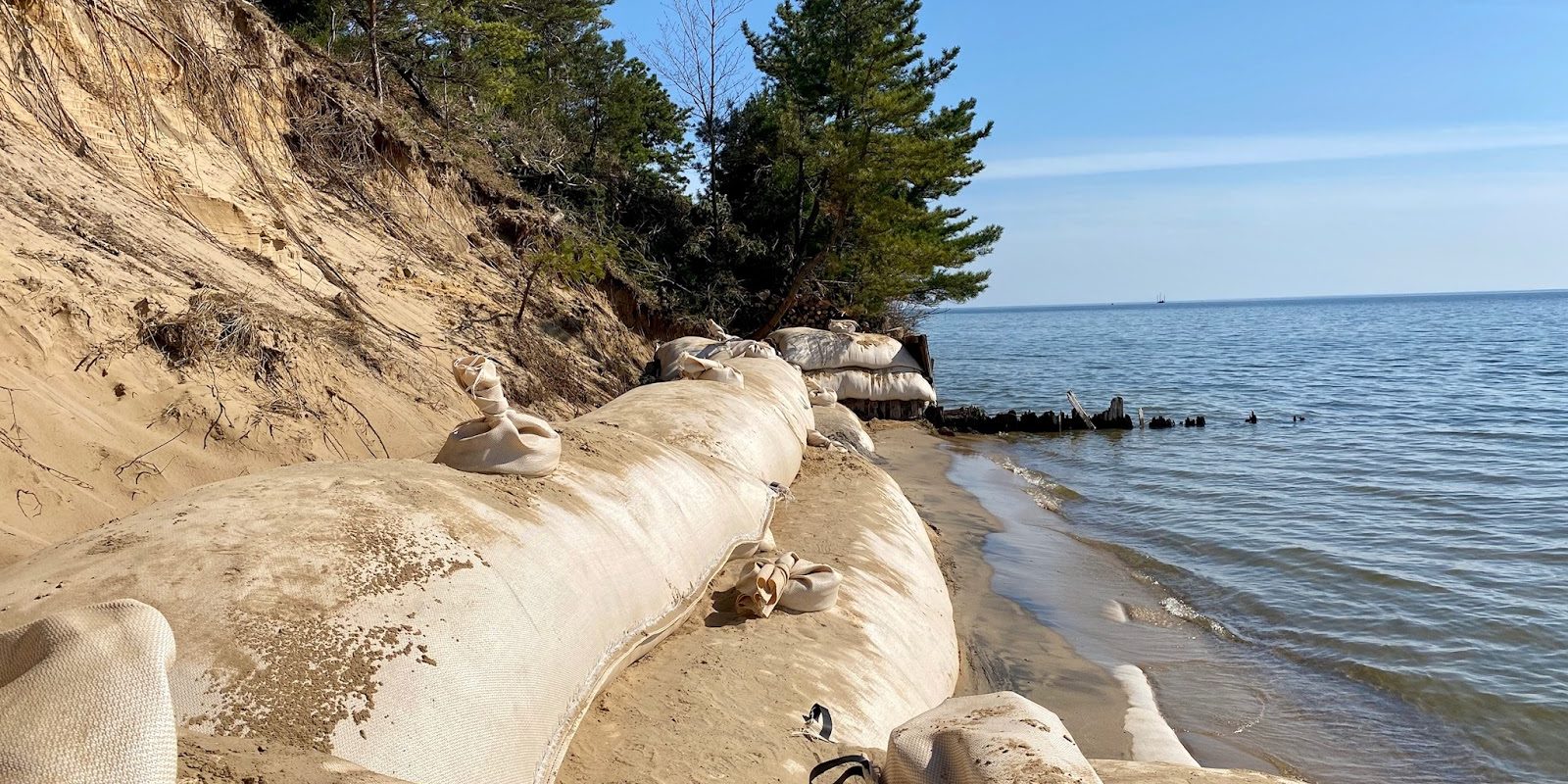 Different Types of Geotextile Fabrics
There are different types of geotextile fabrics that are each designed to accommodate different flow rates and strengths. Geotextile tubes and bags come in different sizes as well. 
Geotextile tubes and sand bags have many advantages. Compared to other methods, they are very cost-effective. They are also more environmentally-friendly. The decanted water can also typically be discharged into waterways. Since they are efficient and require no heavy equipment, they reduce land usage and damage.
More benefits include:
UV resistant
Versatile
Minimal impact on the environment
Cost-effective
High-strength
Efficient
Geotextiles are resistant to ultraviolet deterioration and degradation. They are very efficient and have a minimal environmental impact.
Geotextile Sand Bag Applications
Some common applications for geotextile tubes or sandbags include:
Shoreline Erosion Protection
Slope Protection
Soil remediation
Industrial applications
Mining
Wastewater liners
Municipal applications
Waste containment
Sludge dewatering
Agricultural applications
Horticulture and aquaculture
Animal waste containment
Water treatment
Environmental containment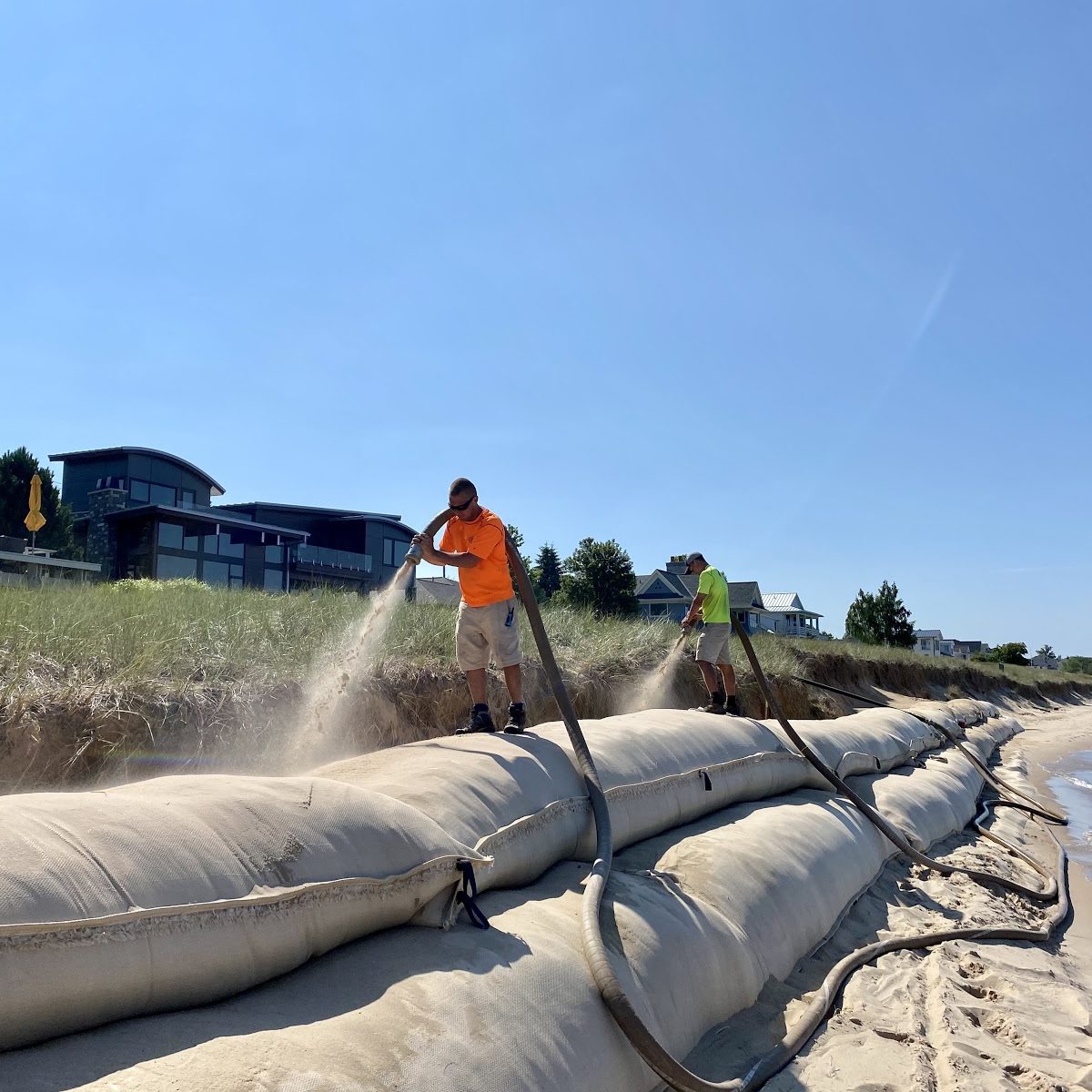 What are geotextile tubes used for?
Geotextile tubes and geotextile bags are useful in marine construction. Geotextile tubes have been used to protect shorelines, protecting the toe and slope of sand dunes, reclaim land, and rebuild beaches. They can also be used to prevent storm damage, produce sand dune cores, create breakwaters, build structures, and form islands.
Today, climate change has caused the water levels in the Great Lakes to rise significantly, threatening homes and beaches along the coasts. Geotextile tubes and geotextile bags can be used to protect these shorelines and properties. They can be stacked to form a barrier which filters out water and protects the land and structures from water damage and further erosion.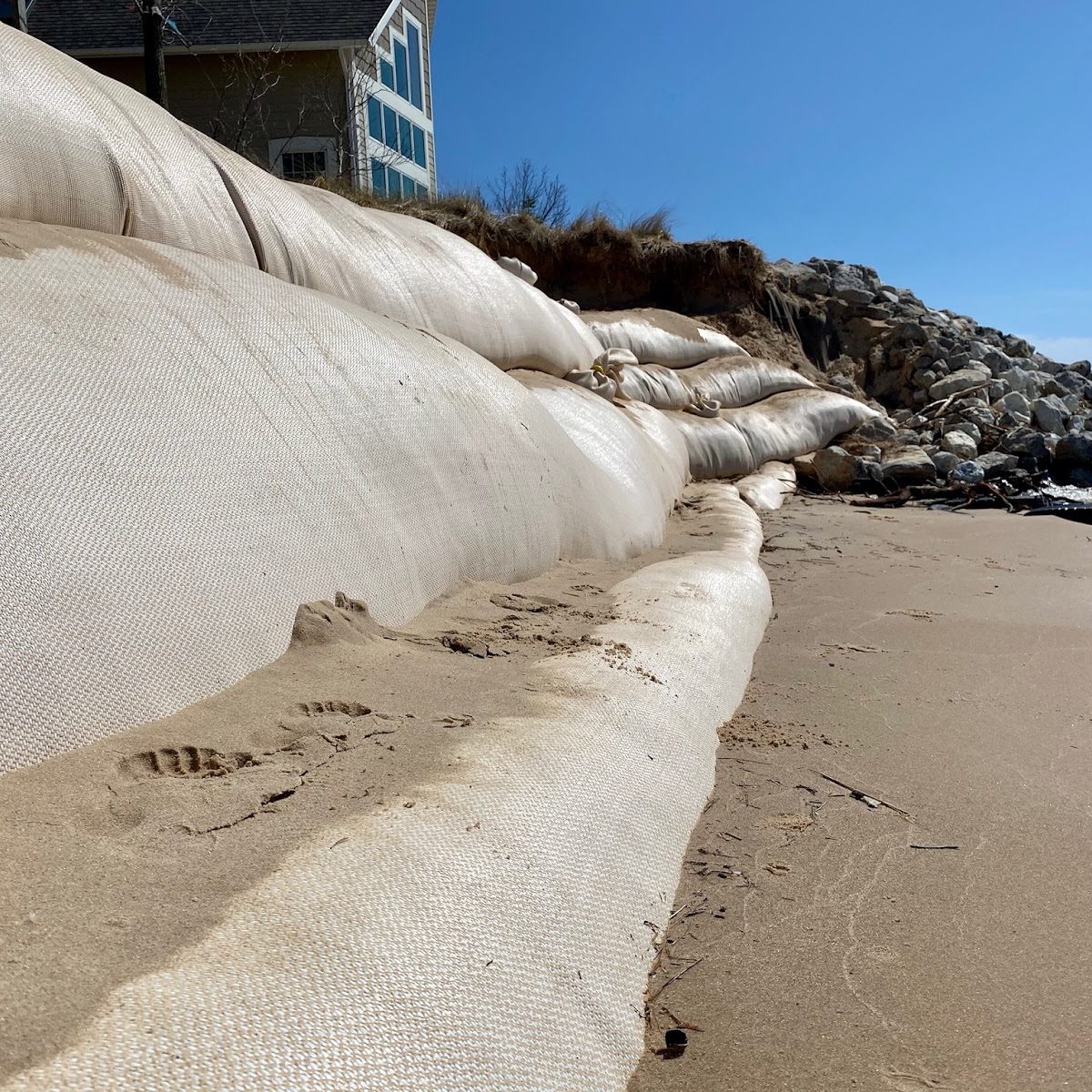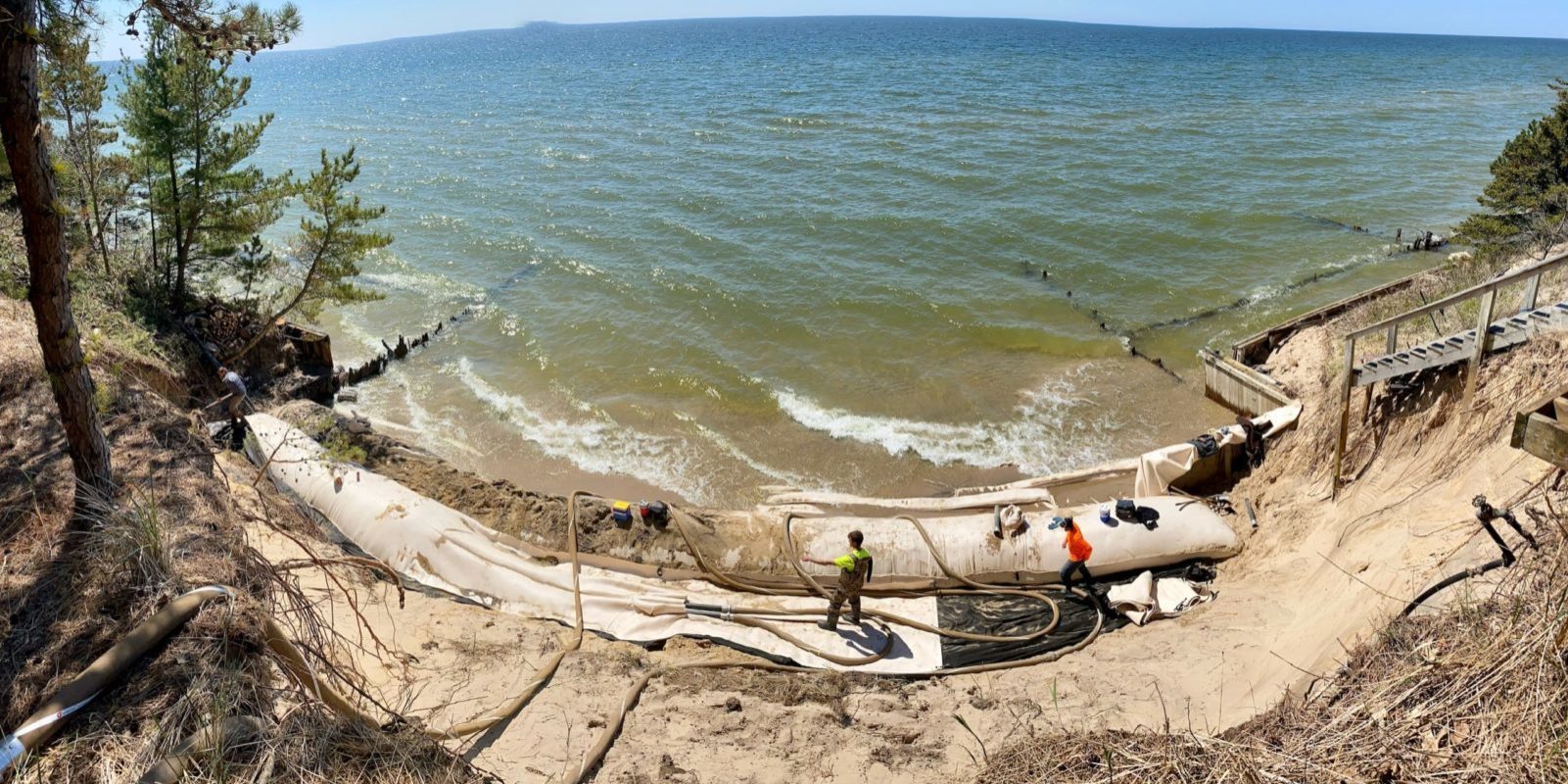 Geotextile Tube Installation Process
Step 1
Clean, dry sand is delivered in from an upland source via Superior Groundcover's conveyor delivery trucks.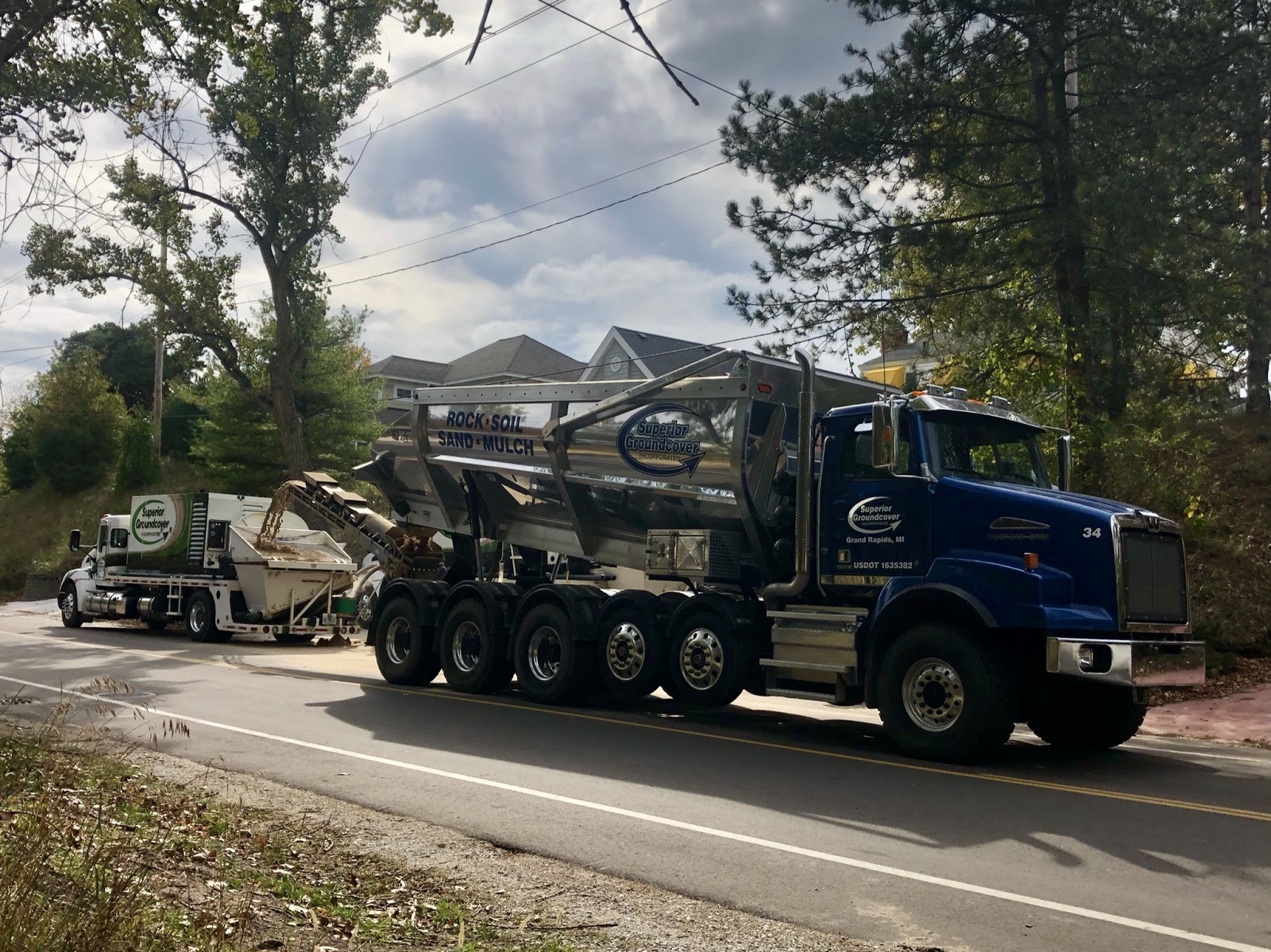 Step 2
Sand hoses are connected to the sand blower truck and are laid out to the areas that require sandbag protection.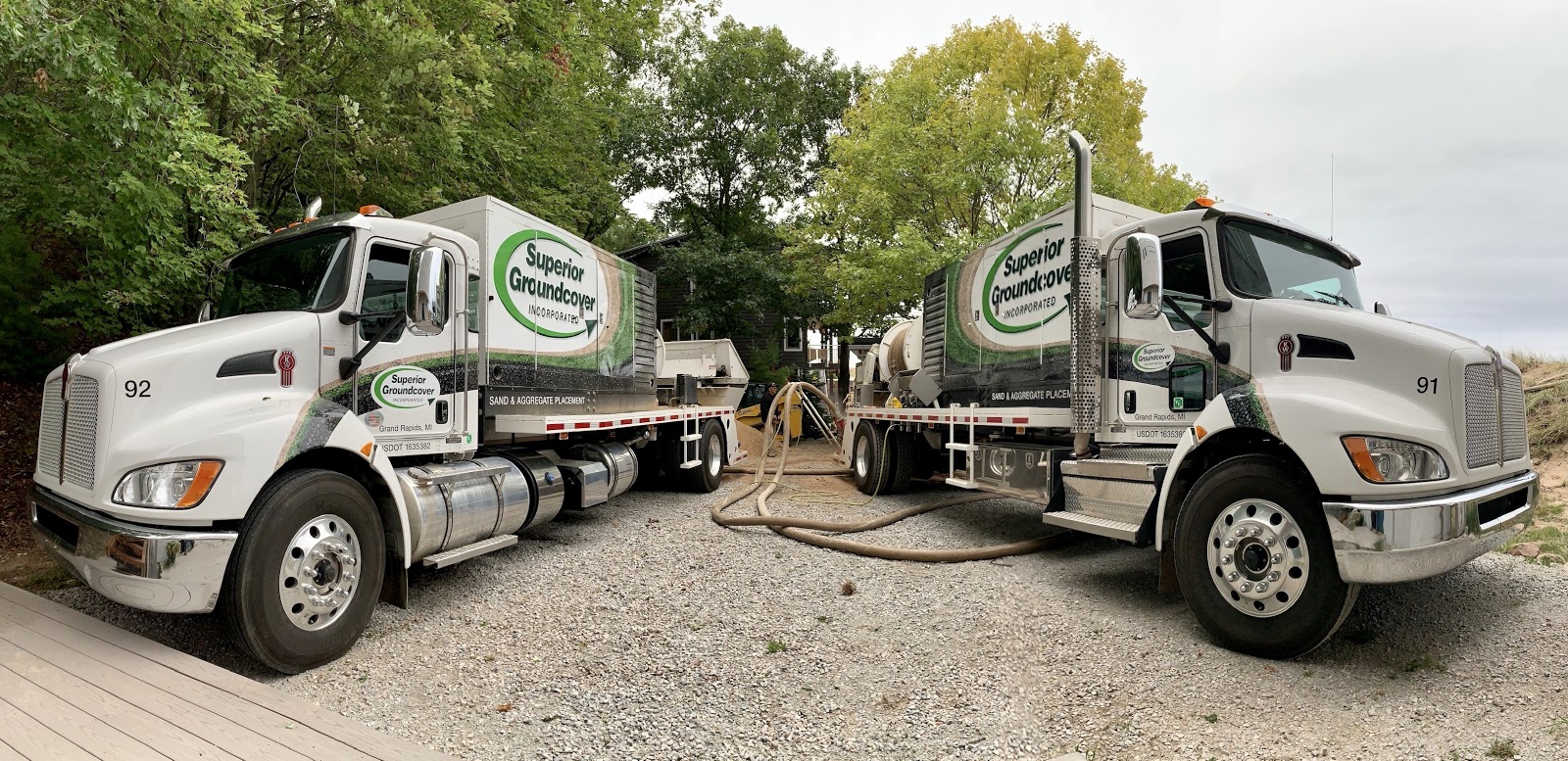 Step 3
Anti-scour apron fabric, made from the same high-quality material as the geotextile tubes and sandbags, is installed under the area that requires sandbags to help prevent wave scouring under the sand tube system. A non-woven fabric barrier is placed behind and under each level of sand tubes.
Step 4
The empty geotextile tubes and sandbags are set in place by hand along the toe of the bluff.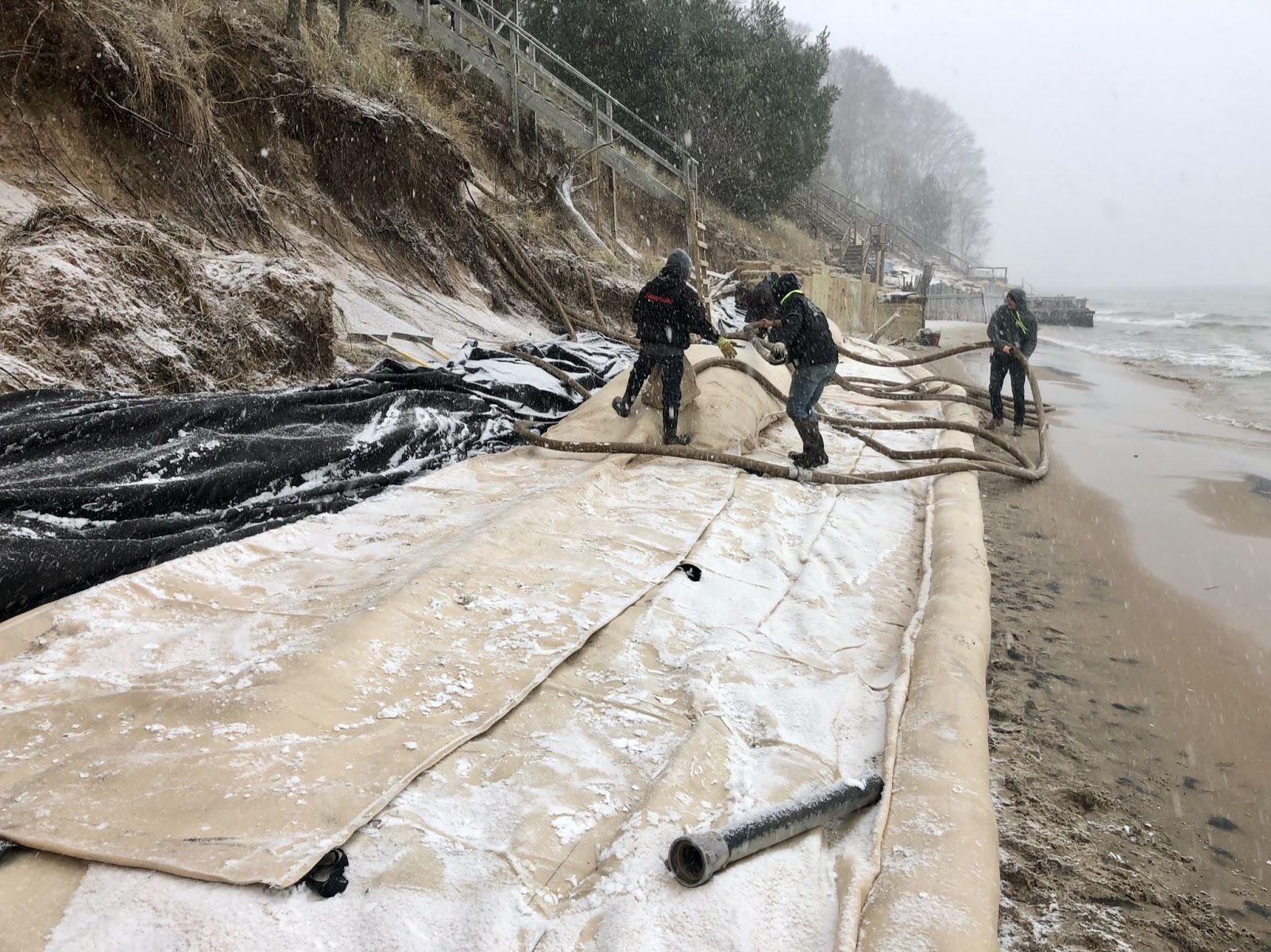 Step 5
Clean, dry sand is loaded directly into the sand truck hopper on the street or driveway via conveyor delivery trucks, or a bobcat may be used to load sand from a bulk pile into the hopper of the sand blower truck.
Clean, dry sand is pneumatically installed into the sand tubes along the shoreline frontage.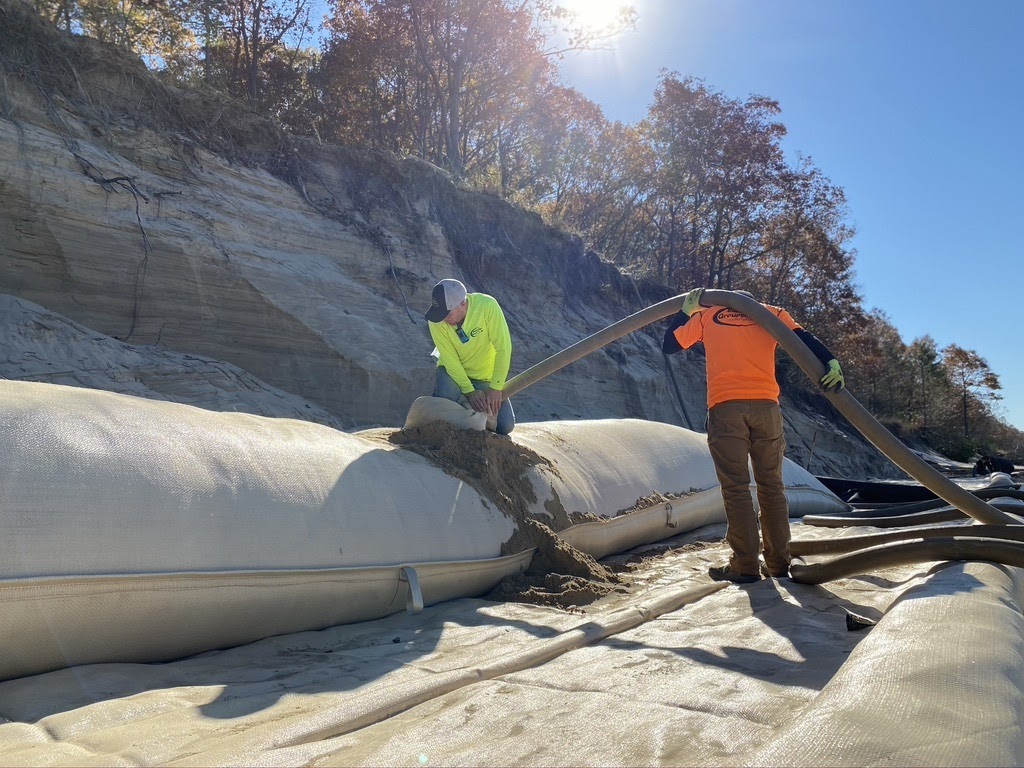 Step 6
Clean, dry sand is pneumatically installed behind each level of sand tubes as needed for backfilling purposes.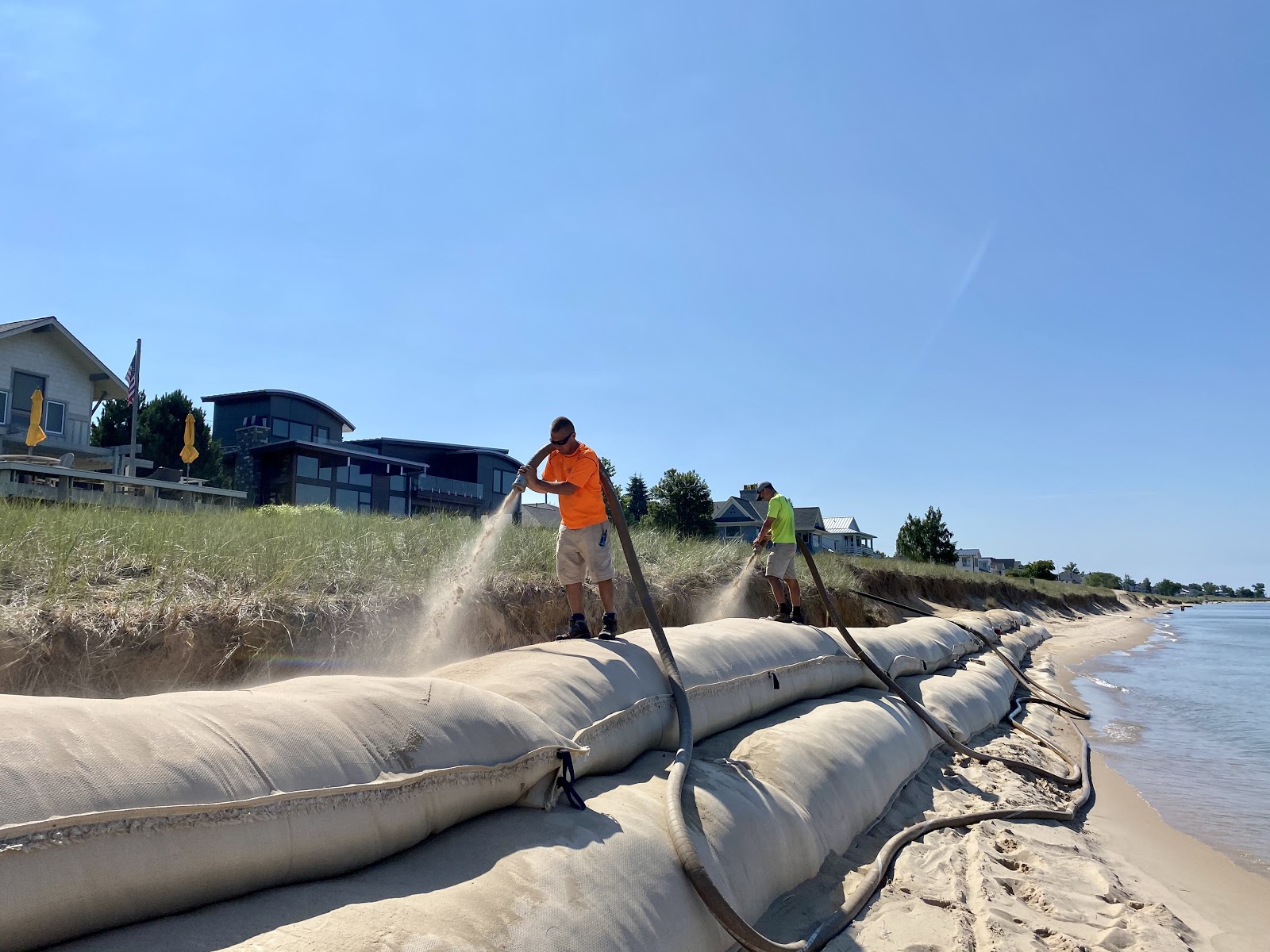 Step 7
Once all sand tubes are placed by hand and filled with clean dry sand, the installation process is complete. Several hundred feet of shoreline can be protected within days by using Superior Groundcover's sand tube and sandbag installation method.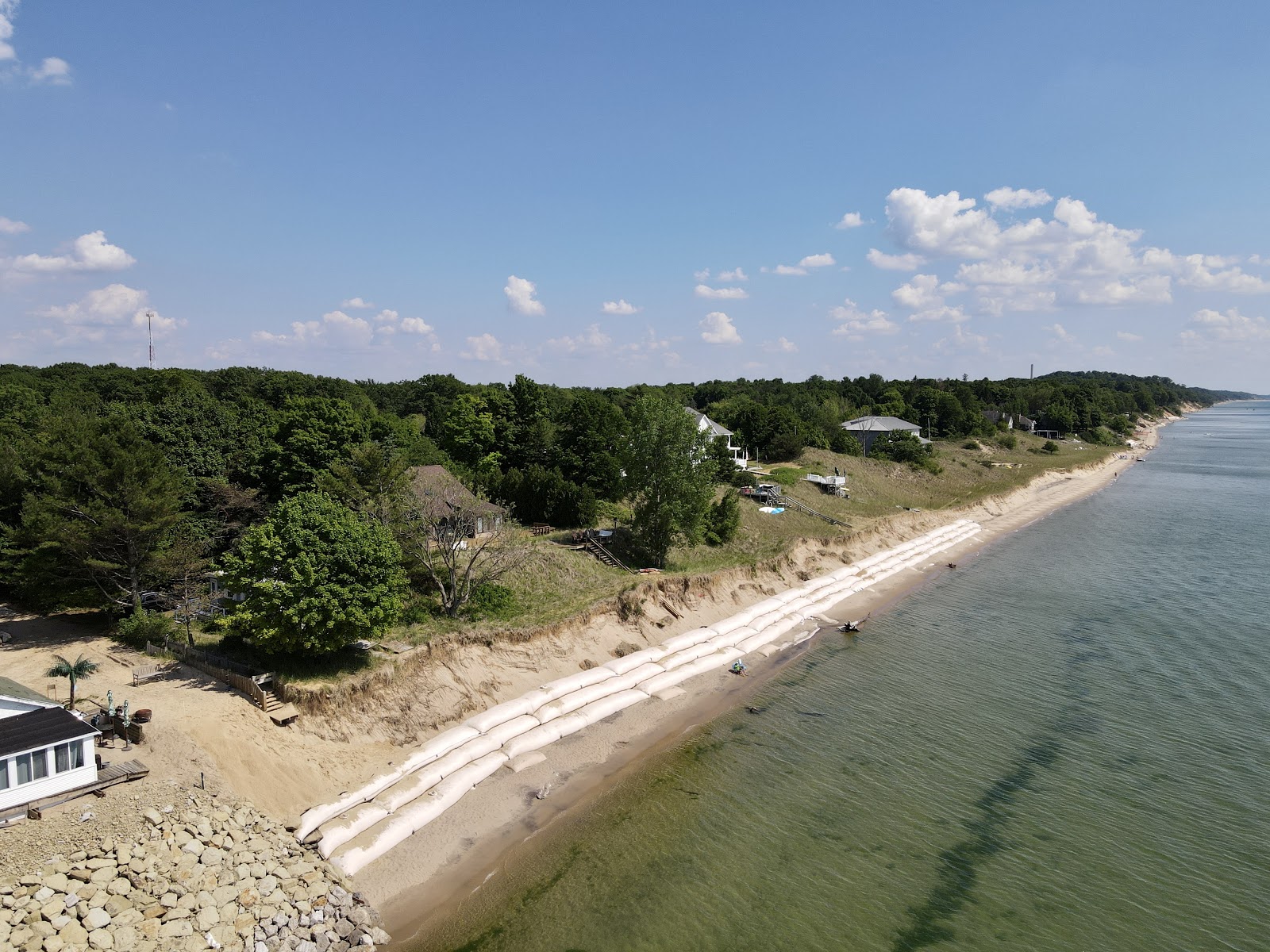 Where We Do It.
Geotextile Tubes & Sand Bags
We offer installation for geotextile tubes all over the shorelines of Western Michigan, including the following areas: